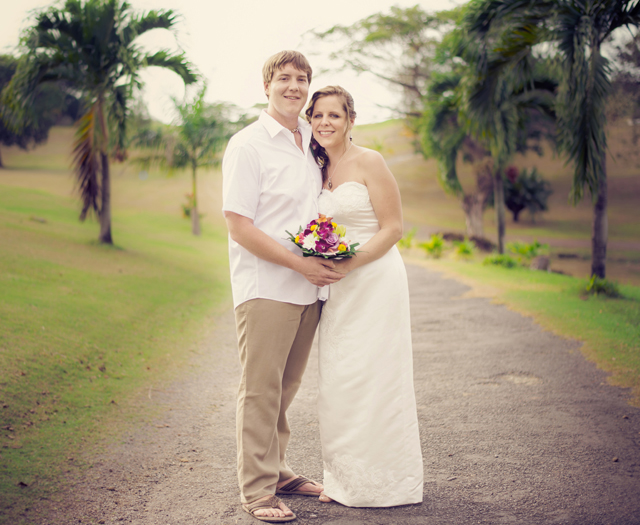 As a photographer, it's probably obvious I would be super excited to get my own wedding photos back. Well, it has finally happened, and I would love to share my photos and Jamaican wedding experience with all the Ann's brides out there! I am lucky to have some very talented photographers as friends, so I made a deal with my friend Steve from Steve Harvey Photography to pay for his flight and hotel if he would photograph my wedding. A win-win for us both!
Let's start at the beginning… my now husband, Jason, first caught my eye at my friends' wedding, of all places, as a groomsman. It took about half a year for us to start dating, and 3½ years after that Jason proposed to me at a lighthouse just north of San Francisco. We are both passionate about traveling, so it was no surprise we would be having a destination wedding. Jason also had developed a slight obsession with Jamaica after traveling there with his Jamaican cousin a couple times, and I had always wanted to go there, so it was a great fit for us.
A good friend of mine had gotten married in Jamaica a couple years prior, and had great things to say about her venue, Kuyaba Negril. So we decided to vacation there a year ahead of our wedding date to make sure it was right for us. Sure enough, it was perfect!
A year later, our big day finally arrived. We were overjoyed to have about 35 friends and family members from the States join us, as well as some of our friends who live in Jamaica. Our wedding party was small: two of my best friends from high school, Jason's best friend since childhood and his brother.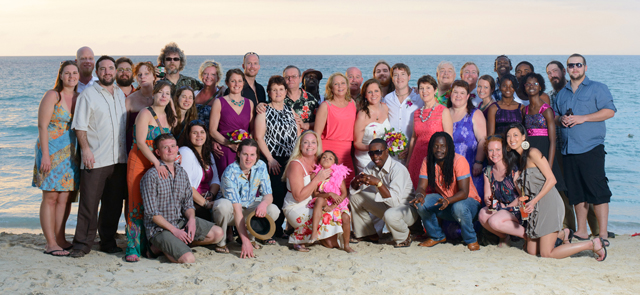 In true Jamaican fashion, the whole day was very laid back. We got ready in a friend's hotel suite, and had our first meeting on the scenic Kuyaba grounds just outside of the room.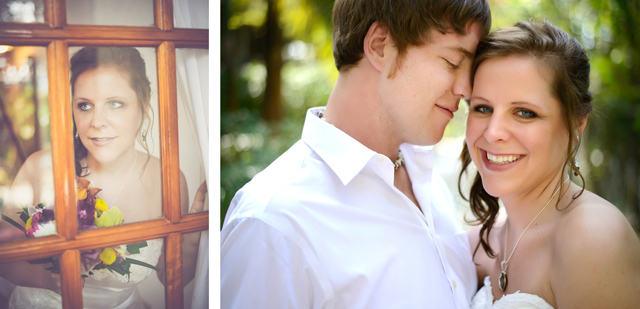 Then we all crammed into a van and took a jaunt to the local golf club for more photos, and arrived back at Kuyaba just in time for the ceremony to start 10 minutes late…but nobody cared since we were in Jamaica!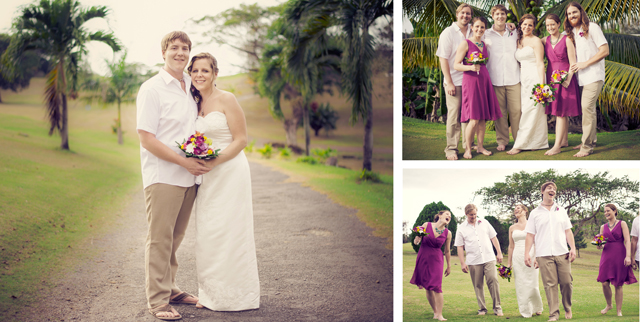 We had one of our good friends officiate our wedding, and a local minister was there to witness for legal purposes. The ceremony was beautiful, but the public beach posed its own unique distractions! Tourists in bikinis were watching the entire ceremony, and we had a pretty major disruption by one of the locals. All in all, none of that mattered much to us, but it is definitely something to keep in mind for anyone planning a beach wedding.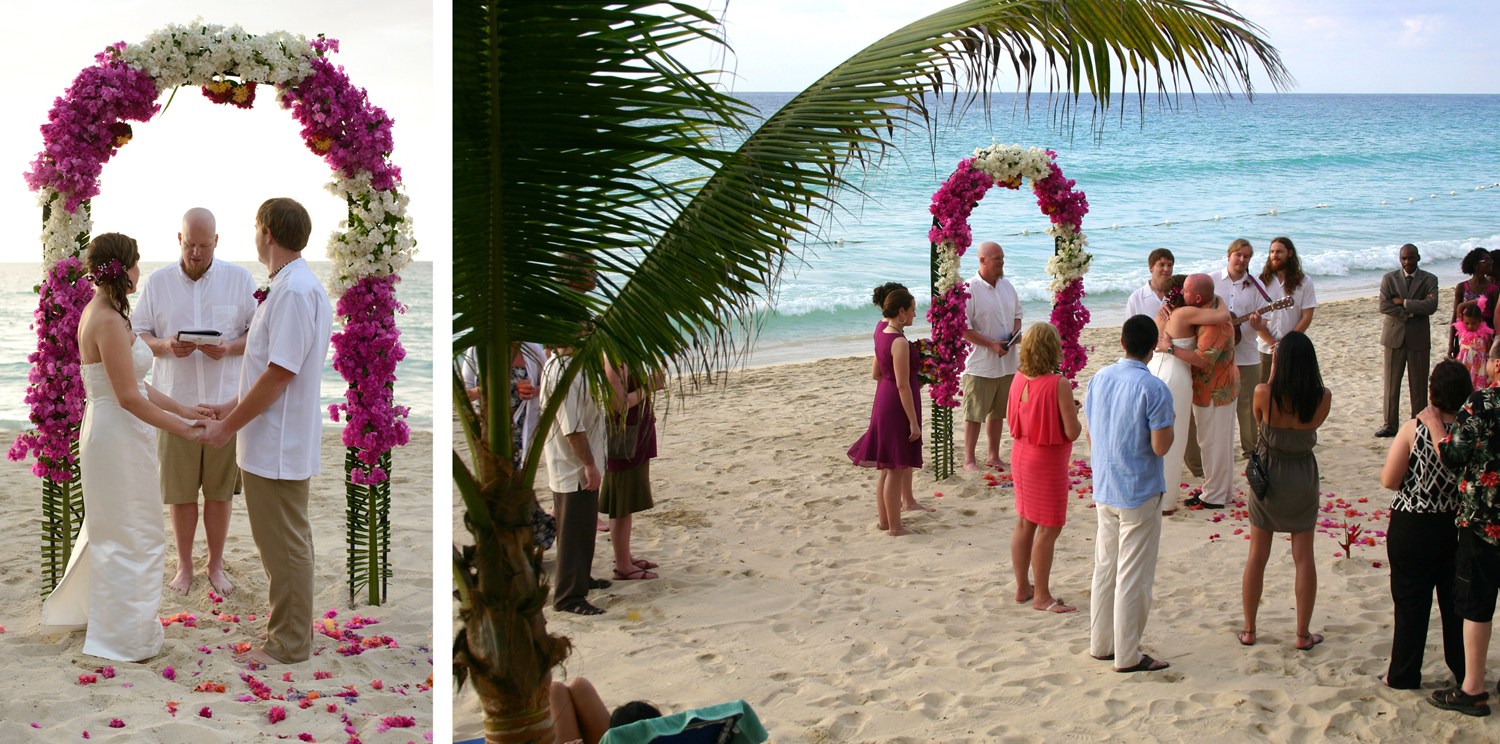 We dipped our feet in the water and took some sunset beach photos after the ceremony, and enjoyed an amazing dinner and drinks after sunset.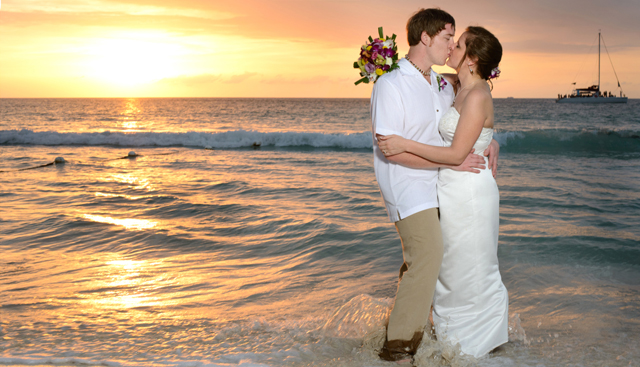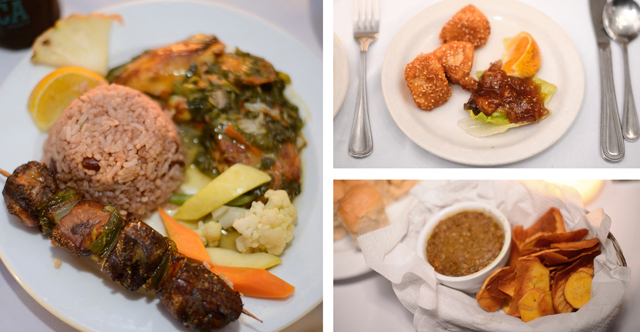 When we got back to our room, we were surprised with a message spelled out on the bed in flowers (yes, those red fuzzy things are plants!) and a bouquet of fresh tropical flowers. A perfect end to a perfect day!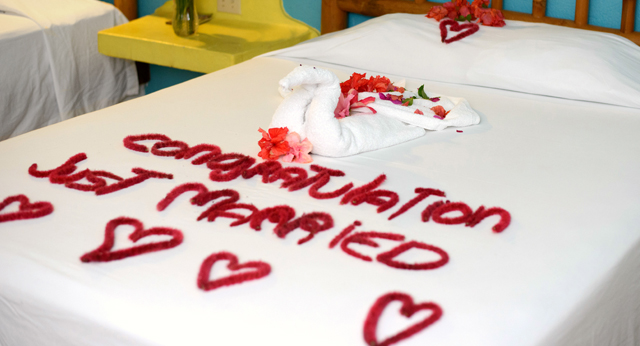 Make sure to stop back to our blog in a couple days to see more about our beautiful Jamaican wedding! I'll tell you all about my experience planning a destination wedding and how I saved money, and I'll share more photos and details from the big day.