The success of the recently released movie, The Great Gatsby, has inspired the 1920s theme to come alive once again. It is thought to be one of the top wedding trends for 2014.
If you're having a Gatsby or 1920s themed wedding, we have the inspiration for you! Ann's Bridal Bargains has wedding invitation designs that will help jumpstart your creativity and get your imagination roaring with great ideas. You will notice a distinct, art deco theme and some modern takes on art deco design elements with chevron patterns and flourish accents. Here are a few of our favorites: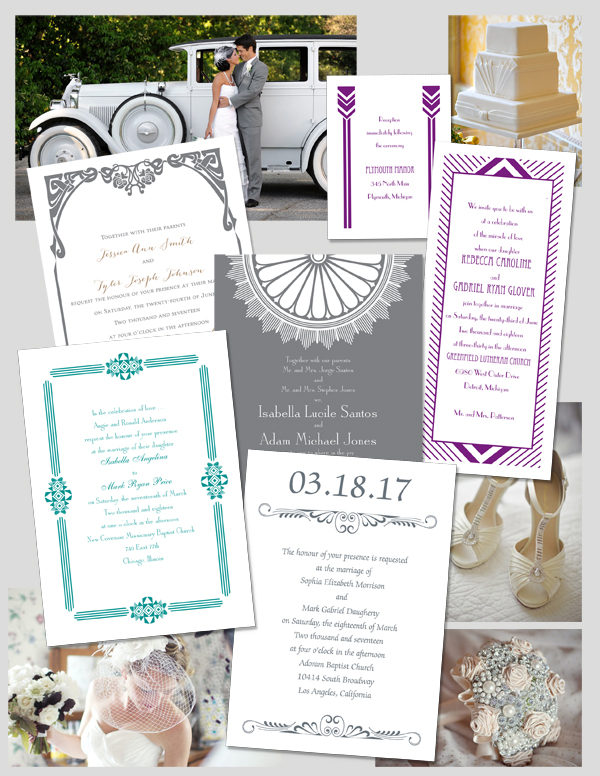 Clockwise from top:
Chevron Pillars Separate and Send Invitation
Art Deco Luxury Invitation
Calligraphy Perch Invitation
Art Deco Frame Invitation
Distinct Style Invitation
Remember, colors matter also! Colors that are rich and bold, and colors that represent opulence and grandeur are perfect for this theme. Some popular Gatsby colors include black, green, purple, gold and silver. The Great Gatsby portrayed the ultimate in glamour, a prevalent theme in the 1920s. So if you're struggling to think of the right decorations and final touches, just "go for the gold" and make it look rich!