Affordable wedding favors don't have to come in the form of a gift or treat given to your wedding guests. If you would like to do something more personal and heartfelt, consider making a donation to your favorite charity instead of the traditional wedding favor. Donate whatever amount of money you're comfortable with and have fun sharing the good deed with your wedding guests!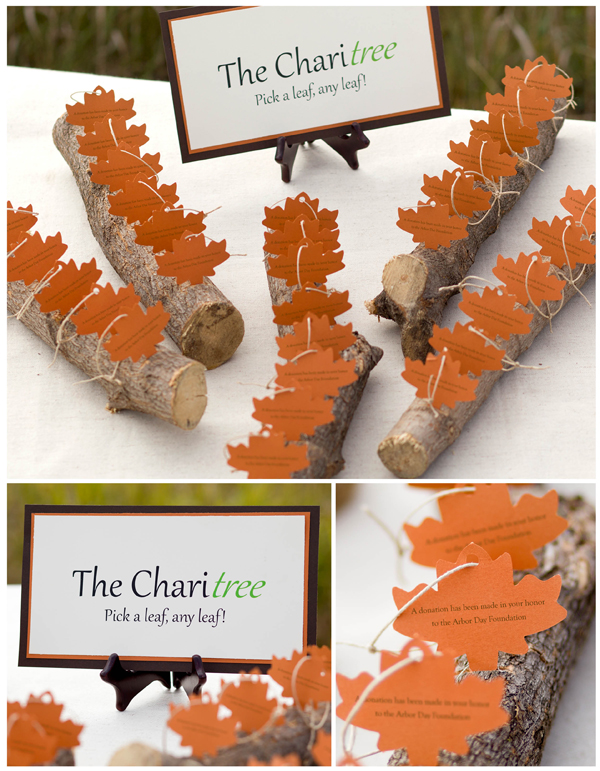 We chose the Arbor Day Foundation as an example, and we created a Charitree. We had maple leaf favor tags printed with "A donation has been made in your honor to the Arbor Day Foundation!" We then gathered small logs and sawed slits to hold the favor tags. You could also create the silhouette of a tree out of paper or fabric, hang it on a wall and place the favor tags as leaves on the tree. Guests will grab a tag as a memento of your donation.
The Charitree sign was printed on ecru card stock and backed with spice and espresso card stocks. Sheets of card stock are available at your local hobby store. I used double-sided tape to hold the layers together.
Here is a breakdown of cost:
Donation: Amount is completely up to you.
Favor Tags: $47.98 per 100 tags
Card Stock for Sign: 25¢ – 50¢ per sheet of paper ($1.50 total)
Double-Sided Tape: $4.99 for ¾" width
That's about 50¢ per favor, not including the donation. Not too shabby!