I love the rustic trends we are seeing in weddings this year. Picture an outdoor wedding at the family farm complete with barn wood signs pointing the way and mason jars filled with your favorite drink. I loved the challenge of dressing up this kraft paper invitation (kraft paper is brown like a paper bag) with lace design printed in black ink. It's called the Luxurious Borders wedding invitation, and it really stands out! If you want to add your own touches to this rustic wedding invitation, the options are limited only by your imagination.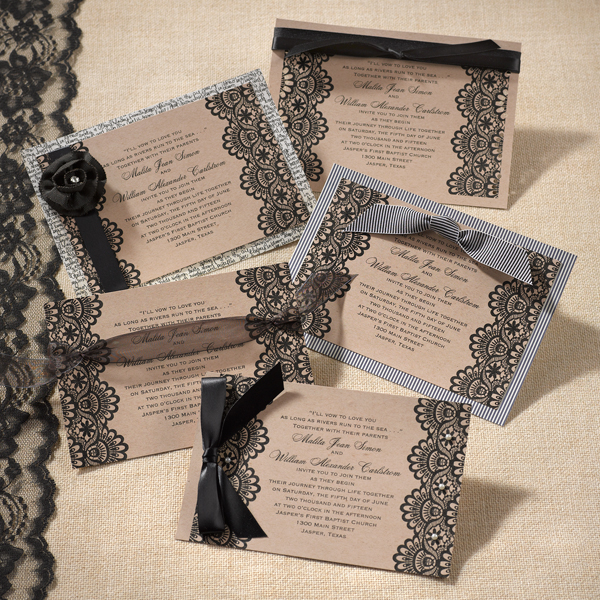 Have fun layering patterned papers and ribbon on this invite. I trimmed the edges, glued a striped paper backer and added a knotted ribbon with that same striped pattern. The stripes could be carried throughout the wedding with a striped bow tie for the groom and striped ribbon in the bride's bouquet or as a sash around her waist.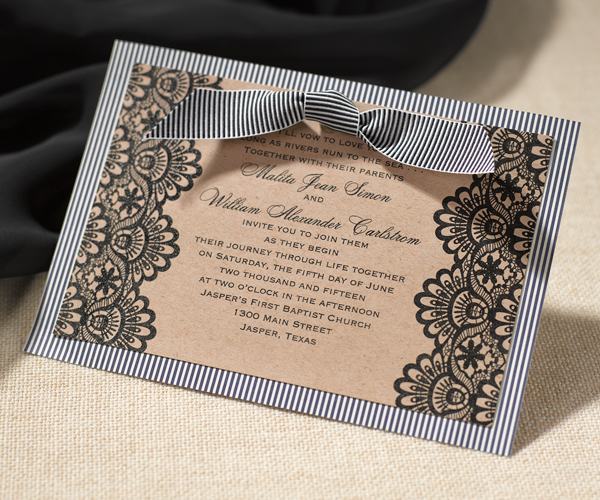 Solid satin ribbon will lend a luxurious touch. Use a tiny hole punch and punch out some of the lace pattern on each side of the invite to give the paper a real lace feel. Wrap a band of 5/8" grosgrain ribbon around the invite and then tie a knot with a smaller 3/8" satin ribbon.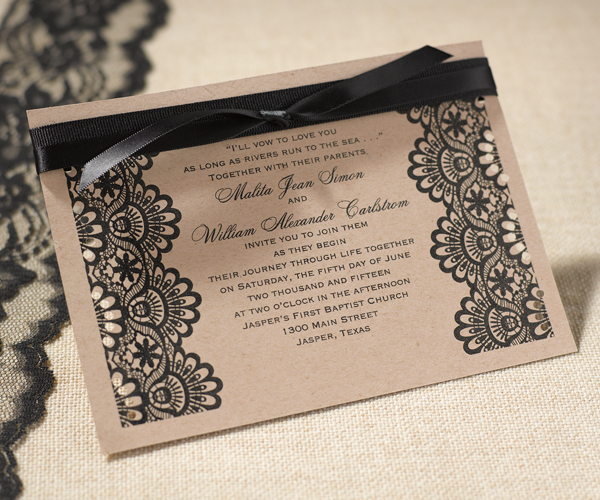 Get that crafty look by trimming the border off of the wedding invitation, then wrap a 5/8" satin ribbon vertically around one side. Attach an adornment with hot glue or a glue dot. Use a rustic paper backer to finish the invitation. I used scrapbooking paper with handwritten words. You could also use actual pages from a book if you both love to read!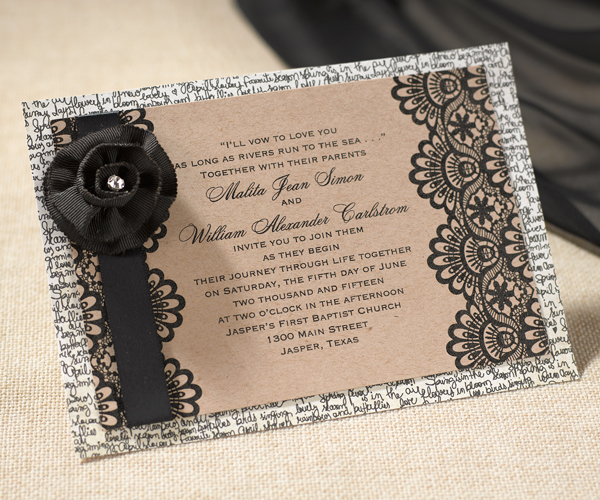 Chiffon ribbon adds a romantic touch to this lace wedding invitation. Trim the edges off of the invitation, then punch a small hole on each side about one inch in. Make sure punches line up with each other. Grab a 5/8" black chiffon ribbon and weave it through the holes and around the invitation. I knotted the ribbon on both ends for a little more style. The shear ribbon gives it an old-fashioned, elegant look.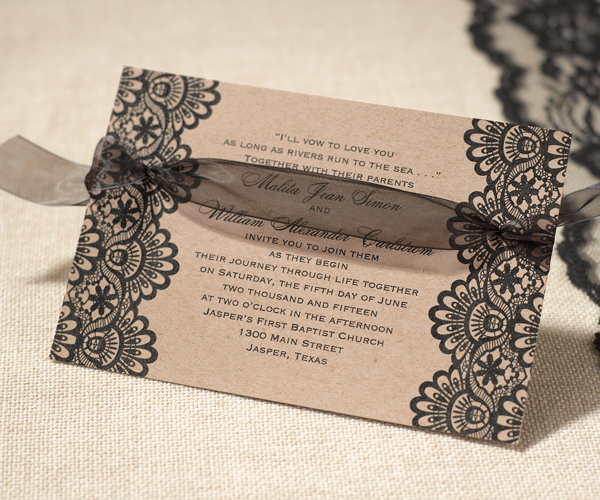 Some sparkling adornments will give these rustic wedding invitations a bit of glamour. Trim three edges off of the invite, keeping the left edge as is. Add a self-adhesive, black satin bow on the left side and add pearl stickers to select centers of the lace design. Carry the look of pearl throughout your wedding by wearing pearl jewelry and adding pearl sprays to your bouquet or hair. You could also wrap wired pearls around your reception table centerpieces.
You can find the black satin and black chiffon ribbon rolls, black satin stick-on bows and pearl stickers all at Ann's Bridal Bargains. You can buy in BULK on Ann's, which saves you a million trips to several craft stores to get the quantities you need.
Scrapbooking paper backers, striped ribbon and flower adornments were all purchased at my local hobby store (don't forget your coupon to save a few extra dollars!).