Are you planning a winter wedding but not sure how to find winter wedding decorations that fit in your budget? How about candy canes and the crisp, beautiful look of red and white?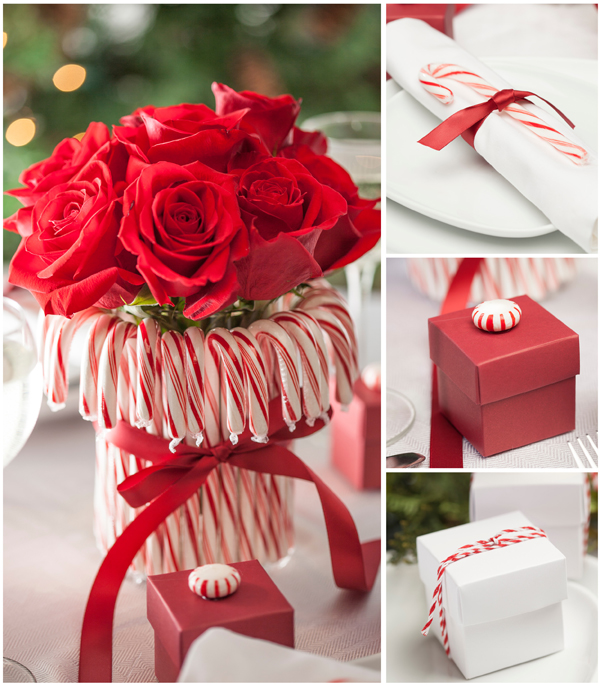 1. Candy Canes and Roses
Grab a clear glass cylinder, then hot glue candy canes all the way around the outside. This cylinder took about 30 candy canes. Fill the vase with water and add a small bunch of red roses. Tie a ribbon around the base, and you have a fun and festive reception table centerpiece.
2. Napkins with a Twist
Tie 5/8" scarlet satin ribbon and a candy cane to each cloth napkin. This adds color to your wedding reception tables and it doubles as a sweet treat for guests.
3. Peppermint Knob Favors
Simply hot glue round peppermints to the lids of these red favor boxes for fast and easy winter wedding favors!
4. Boxes with Baker's Twine
Wrap twine around white shimmer two-piece favor boxes twice and knot the twine at the top of the favor box. Fill boxes with mints, peppermint scented votive candles or a large truffle.
5. Carnations and Evergreens
Fill a square container with a small bunch of white carnations (carnations are one of the most affordable flowers you will find). Wrap the base with a band of polka-dot scrapbooking paper and secure with baker's twine. Place the container on a clear glass plate and tuck fresh cut greens around the plate. Sprinkle a few extra red and white candies around the base of this reception table centerpiece for guests to enjoy.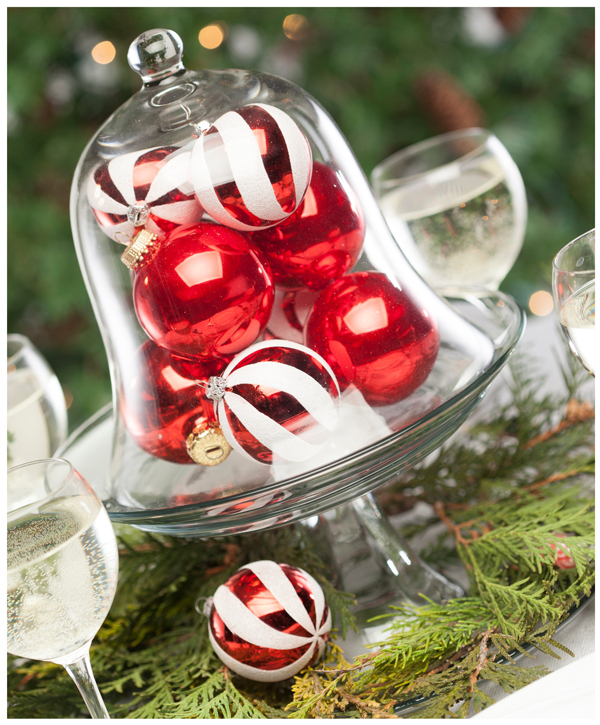 6. Glass Cloche with Ornaments
A cloche is a bell-shaped glass cover, traditionally used for protecting outdoor plants. Fill the glass cloche with red- and white-striped ornaments and a few solid red ornaments, too. Put a clear glass plate over the opening of the bell and gently flip it over. Place it on a glass stand. I like to add greens around the base to give it that perfect feel for winter wedding decorations.