Watercolor florals are whimsical, romantic and captivating. The Floral Splash wedding invitation captures the beauty of watercolor flowers without making a big splash in your wedding budget! We're showing five different ways you can dress up this invitation and give it that DIY look without a lot of effort or money.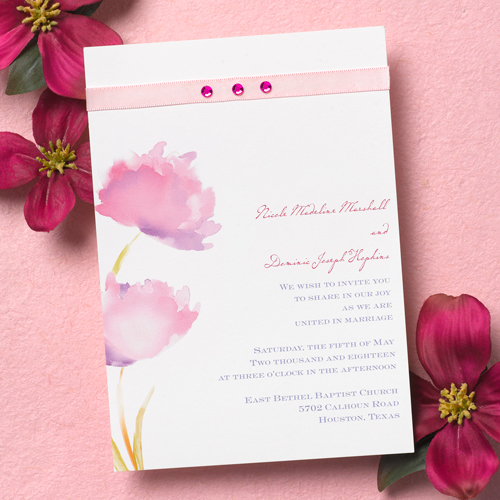 Pink satin ribbon (3/8") with three stick-on rhinestones in fuchsia beautifully complements each flower's varying shades of pink. Use a glue stick for attaching the ribbon to the invitation or tie the ribbon around the invitation leaving the knot in the back.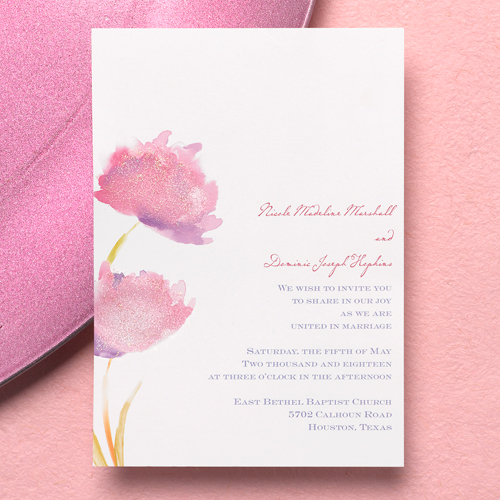 This was so easy and it turned out so beautiful! I simply rubbed a little Elmer's glue over the flowers and sprinkled extra fine, pearlescent glitter over the top.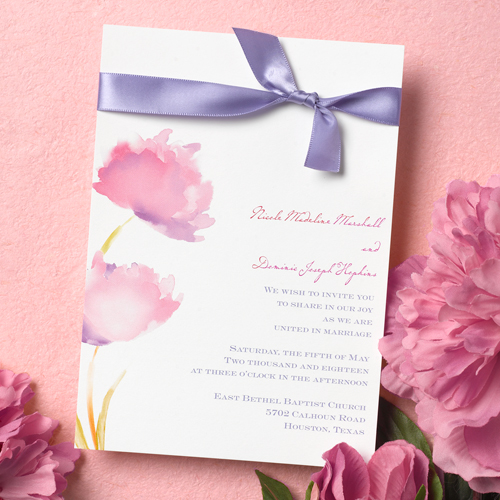 Another very easy option, I wrapped lavender satin ribbon (5/8") around the top of the invitation and tied it in a double knot. The knot is placed slightly off center to balance beautifully with the invitation's floral design.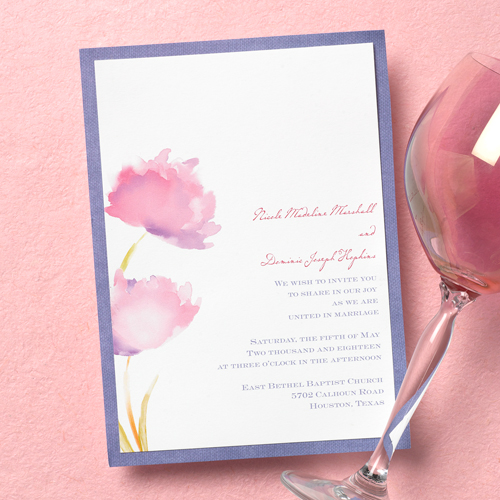 Adding a colorful backer can make a big impact. This purple scrapbook paper features a light burlap pattern, which lends a sense of texture to the invitation. I used a glue stick to attach the invitation to the scrapbook paper.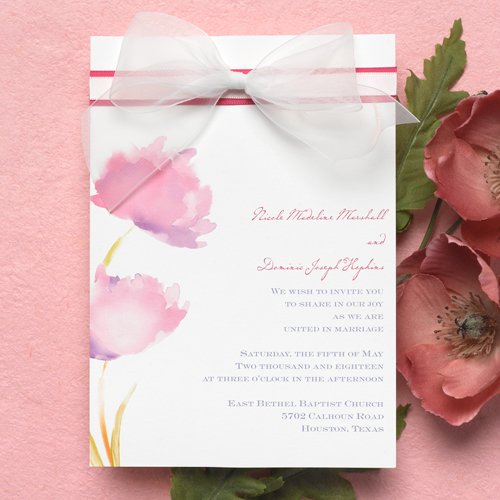 Layered ribbon with a white chiffon bow is both sassy and romantic! I attached the pink satin ribbon (3/8") to the fuchsia satin ribbon (5/8") with a glue stick. I then attached the fuchsia satin ribbon to the invitation (also using a glue stick). The stick-on chiffon bow was super easy to use and added the perfect touch of delicate detail.
Be sure to check out the ribbons and adornments available here at Ann's Bridal Bargains or at your local craft store. You never know what gems you will find for making your wedding invitation absolutely gorgeous.