We were all feeling a little nostalgic this past week and were reminiscing about family traditions around Christmas. It seemed like a really good idea to share our favorites with you!
"My Grandma Ann used to make Chex mix and give it to everybody for Christmas. The whole family would look forward to getting that holiday package from her. My Mom, sister-in-law and I continue the tradition by getting together at the beginning of December every year and making Chex Mix for all of our friends, family and neighbors. We buy in bulk and it takes a full day to make it. We add a few of our "secret" ingredients but pretty much follow the original recipe. It's those little traditions and the sharing of that with others that I love about the holidays.                                                                                                                                                                                                         – Carynn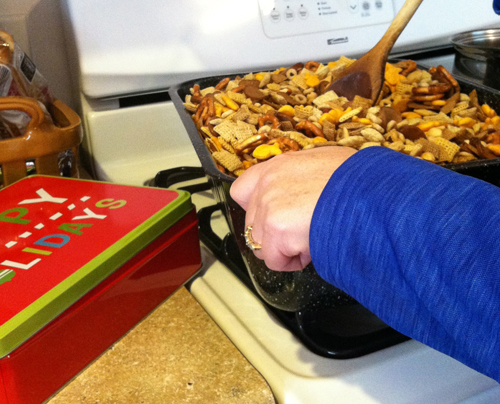 "My mom always gets up early and makes a big Christmas breakfast. Our favorite thing to make is a cinnamon roll shaped like a Christmas tree! It's been a tradition for years, and this year I'm going to try it out on my husband for the first time!"                                                                                                                                                         – Brooke
"My favorite Christmas tradition is our family meal. Each year we have prime rib, au jus, twice baked potatoes, rolls and Tequilaberry's salad. My mom almost always forgets the au jus, and we have to scramble to find some. Afterwards we all play cards and drink champagne.
Just in case you are wondering, the salad is a recipe taken from one of our favorite restaurants that closed when I was a kid. It has iceberg lettuce, shredded carrots, chopped cauliflower and bacon bits. It's topped with Parmesan cheese and a special dressing made with mayo, heavy whipping cream and sugar."                                                                                                                                                                                        – Kristi
"I can always count on my Dad making turkey noodle soup with the leftover turkey from Christmas, and I can also count on it being absolutely delicious! He sends me home with several bowls, which become my lunch at work for the next week. I love it! It's piping hot with deliciousness and memories!"                                                                                                                                                                                                           – Shanna
"My husband and his brother have been making "Christmas baskets" for the past 10 years. I joined the tradition when we first started dating about 6 years ago. Making them always includes a lot of procrastination, and then a hectic three days of non-stop baking and treat making while listening to Christmas music and eating extra cheese balls. After all the treats are ready, we assemble them into about 25 baskets or trays and personally deliver them to our closest friends in the area (no matter what the Minnesota weather is like)! This is a tradition our friends also love."                                                                                                                                                                                          – Jackie
What are your Christmas traditions? We'd love to hear them!