Evergreen arrangements become beautiful and welcoming outdoor holiday decorations when given a creative touch. This is the first year I invested a little time and money to create extra outdoor décor in addition to my standard wreaths and lights. I love the way it turned out!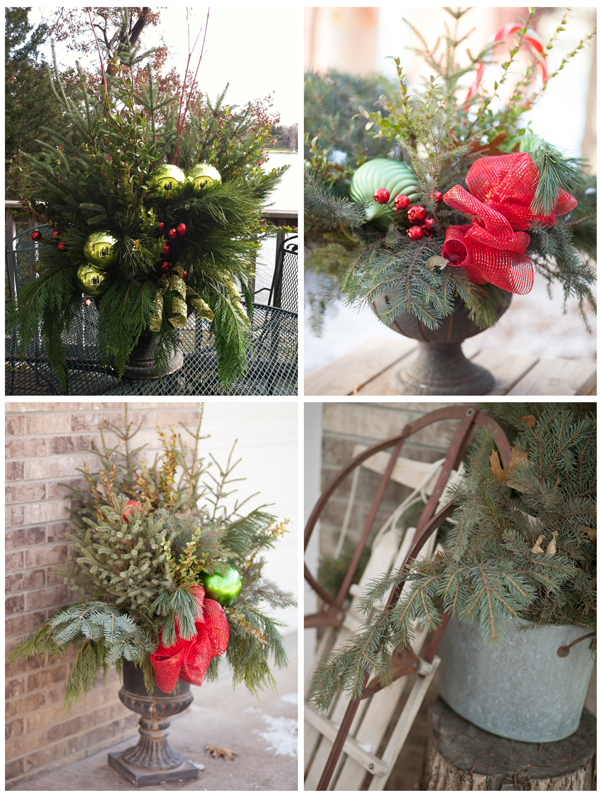 Getting started…
Step 1. Gather the container(s) you'll be using. If the container is ceramic, use a plastic container to put your greens in and then set the plastic container inside the decorative container. Otherwise contracting and expanding with temperature changes may crack your ceramic pot.
Step 2. Fill the plastic pot with sand. Sand is super easy for inserting greens and keeping them moist. You can use dirt if that's what you have handy.
Step 3. Lay out your greens tallest to smallest on the floor. Start with the tallest greens and place them in the center of the pot (spruce tops are shown below).
Step 4. Then go around the pot using different types of evergreens to add texture and color. We used Huck (the smaller leafy branches with a little red in them) to add color and interest.
Step 5. Drape evergreens around the base to fill in and hide your plastic container.
Step 6. Add your tall red dogwood branches and then embellish how you like. I bought plastic shatterproof ornaments then twisted them onto tall floral sticks using wire. I also purchased a wide weatherproof ribbon and tied bows with wire onto floral sticks.
Step 7. Water these outdoor holiday decorations until it freezes to keep your greens looking fresh all winter.
Money-Saving Tips
• I used plastic shatterproof ornaments to endure our Minnesota winter so I can reuse them year after year.
• I purchased several greens to get started but I also asked the neighbor if her tree could use a haircut, so I snipped a few branches to fill out my arrangements.
• You can also use the trimmings from your real Christmas tree.
• Cut greens placed in galvanized buckets look great next to old sleds or ice skates you might already have.
P.S. These arrangements would look amazing as affordable winter wedding decorations placed at the entrance to your church or reception!