Green and brown are classic wedding colors that can reflect a range of styles from down-to-earth to naturally elegant. Warm and inviting, these colors create the perfect atmosphere for a celebration of love and friendship.
Olive and brown wedding colors are beautiful on their own, but feel free to add a pop of color like peach or purple. We love how fresh fruits like pears and apples work beautifully into this color combination, and these colors are naturally found in many floral arrangements making it easier to choose flowers for your wedding.
Overall, this classic color combo is not only beautiful but also easy to pull off! Olive and brown are common enough colors that you will find them anywhere as you're bargain hunting for decorations, and they are striking enough to create the look and feel you want for your special day.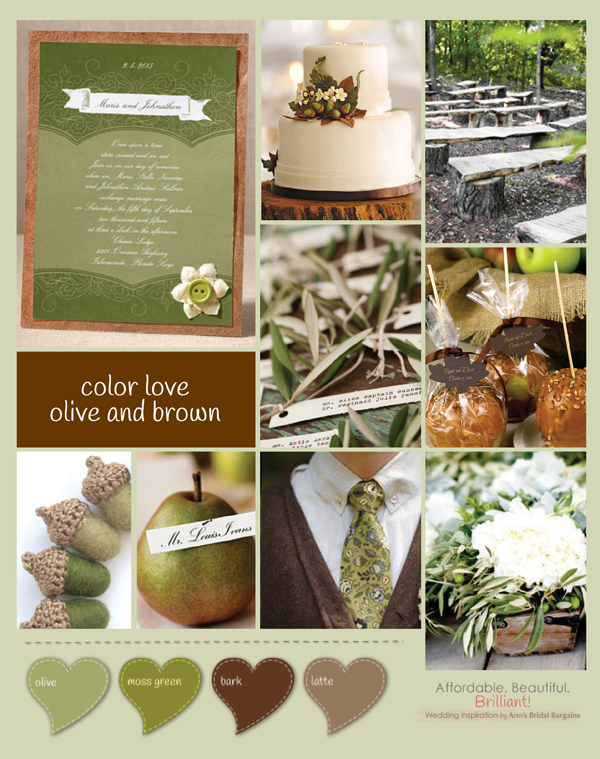 Photo Credits
Dress Up Your Invite – Banners & Swirls: Ann's Bridal Bargains | Maple Leaf Favor Tags – Mocha: Ann's Bridal Bargains | Yarn Acorns: Etsy | Favor Tags: Martha Stewart Weddings | Olive Leaf Centerpiece: Elizabeth Anne Designs | Green Print Tie & Sweater/Pear Place Card: Blonde Blue Blog | Wood Cut Benches: Art Of Weddings | Acorn Cake: Bella E Dolce (via Brides.com)