Music has always been a passion of mine. I have been playing the piano since the 2nd grade and am fluent in multiple other instruments. I am still very active musically. If you have a passion for music like I do, this Sweet Melody Wedding Invitation will be perfect for your wedding. It has a very simplistic look, making it very easy to add some quick embellishments.
Add some rhinestone ribbon around the top part of these music wedding invitations to quickly add some glam. Secure the rhinestone ribbon to the back of the wedding invitation with glue dots. This embellishment is also a great space filler on the invitation.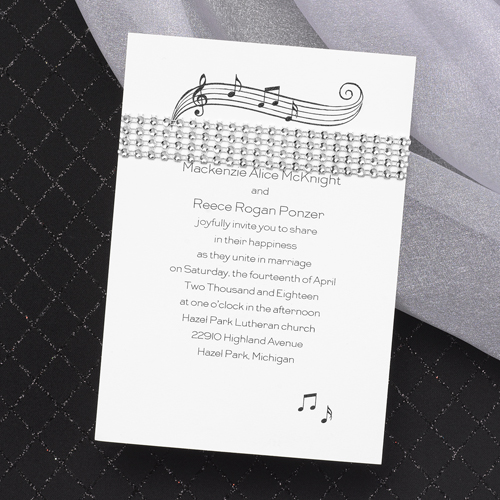 This next embellished invitation was pretty easy. You can buy sheets of stick-on rhinestones in all different sizes at your local craft store. I chose to put small ones in the music staff, a large rhinestone piece in the bottom left corner, and a few smaller rhinestones in the top right corner.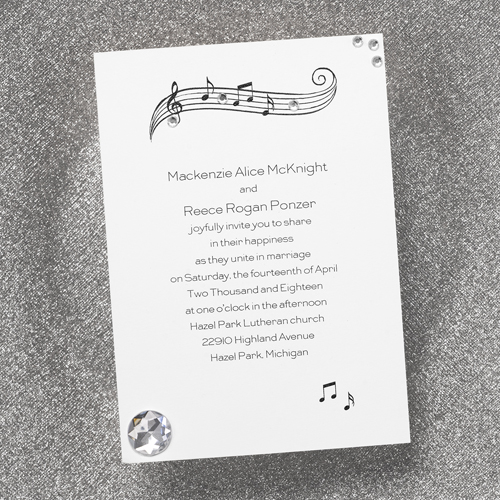 Another simple way to dress up music wedding invitations is to add some musical scrapbook paper to the back of the invitation. I chose to go with a slightly vintage hue of paper to give it an antique feel. It also stands out more against the plain white invitation.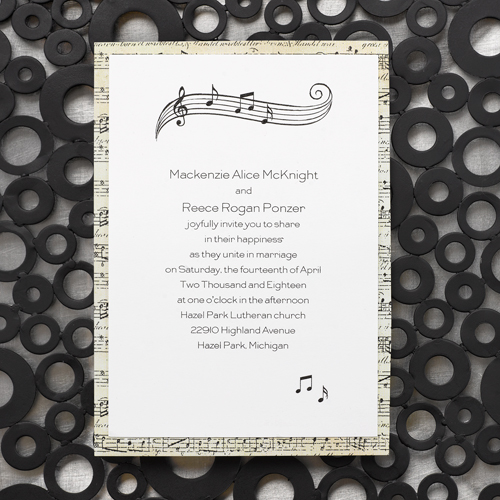 Lastly, I added two different colors of ribbon and made a knot in the front center of the invitation. You can choose your wedding colors for the ribbon, or any colors for that matter.