Deciding on what drinks to serve at your reception is a big part of your wedding planning checklist – and, unfortunately, they're an expensive piece. You have to decide on the different types of beverages you'll serve, where you'll get them from and how much you'll supply. And then there's the issue of whether or not to have an open bar – daunting, I know! If you plan carefully, you can save a ton of money on alcohol. Try using one of these tricks for having a fun party with plenty of (affordable) wedding cocktails: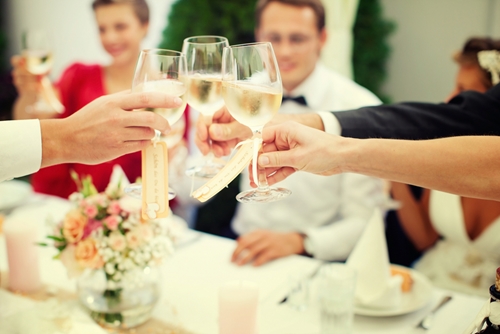 Hold the bubbly
Champagne (a name given to sparkling wine from the Champagne region of France) doesn't come cheap. There are more budget-friendly options, such as Prosecco from Italy, that make a great alternative to French brands. But if you really want to cut back on spending, then drop the sparkling wine altogether – or almost. Have your guests toast with a flat wine instead as it's cheaper and still tastes great. Reserve a single bottle for you and your spouse-to-be, which you can share at your sweet heart table.
Close the bar (well, part of it)
Guests love open bars, plain and simple. They get to drink (or, um, celebrate) for free! What's not to love? For you, the cost is definitely not enticing. Rather than closing the bar (or making guests pay), cut out hard alcohol and serve wine and beer exclusively. Your guests can pay for specialty spirits (some dads just prefer their scotch), but those who don't mind the limit can still get a night of free drinks. Furthermore, this helps prevent guests from getting a little too rowdy.
Serve a signature drink
You may want a bit of hard alcohol during your celebration and a signature drink is the way to do it. Design a mixed drink that relates to your wedding concept, such as a classic martini for a '60s-inspired event. Offer the drink to guests free of charge in addition to your wine and beer bar. Because the cocktail is inspired by your wedding, the guests will be inclined to try it.
Add a serve-yourself bar
Dessert bars are all the rage right now, and a serve-yourself alcohol bar is a great twist on the trend. Set out large pitchers of your favorite drinks and let 21 and older guests serve themselves wedding cocktails. Offer several mixers in addition to your base beverage (such as putting iced tea near the vodka lemonade). You'll want to talk to the venue first to be sure you can implement this plan.