OK, we need to have a serious talk about bridesmaids outfits. If you're anything like me, you're probably bored of seeing the same thing, which is, of course, matching dresses, heels and some kind of cute updo. I have nothing against the look, per se, but I know you can find something way more creative for your big day. I want to share a few alternative looks with you that the bridal party is sure to love. Here's how to cross "get unique bridal party look" off your wedding planning checklist:
Rompers
Remember a few years ago when every woman was wearing a romper? You know, that jumpsuit type of thing. The look is making a comeback and you can use it in your bridal party ensemble. It's a great alternative because the outfits are light weight, and can be classy and casual – perfect for a summer or outdoor wedding. If you're looking for a twist that will fit your indie style, pick a romper with long pants made of a quality fabric (cotton and silk are great options). Dress up the look with a statement necklace, a complex braided updo and strappy sandals.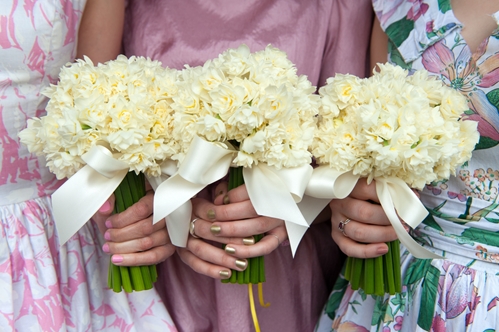 Prints
If you're going to have your girls wear different dresses, asking them to pick a print is a great way to unify your bridal party. For example, have all the ladies wear a floral print that cuts off at the knee. They should choose dresses that contain a certain palette of colors, but outside of that they have freedom. The colors and patterns will create harmony while the different dresses and patterns will add diversity. Be careful with this. Prints have the power to make a beautiful ensemble or a discombobulated one. Your color palette will be your best friend and the girls should adhere to it strictly.
Cutouts
Dresses that have cutouts (or patterns cut into the fabric) are interesting and surprising. Pick a look that has a keyhole neckline or an open back. You have tons of options with this type of dress, and you are sure to find one with the right length and color for your big day. Choose a dress that highlights geometric shapes for your modern wedding, or pick one with a heart back for a more romantic and indie look.
Shoes for a cause
Many brides are forgoing high-heeled bridesmaids' shoes and picking more philanthropic choices. Some companies donate to charity or give a pair of shoes to kids living in poverty when you buy from them, making your purchase worthwhile. If you want to give back and keep your bridesmaids comfortable during the ceremony, choose a shoe that comes with a charitable donation.