Holding your wedding outdoors is a fun and lovely way to celebrate the beginning of your marriage. As you go down your wedding planning checklist, be on the lookout for great venue options. If you like the idea of celebrating your big day in nature, check out our top five outdoor wedding ideas (you'll be glad you did):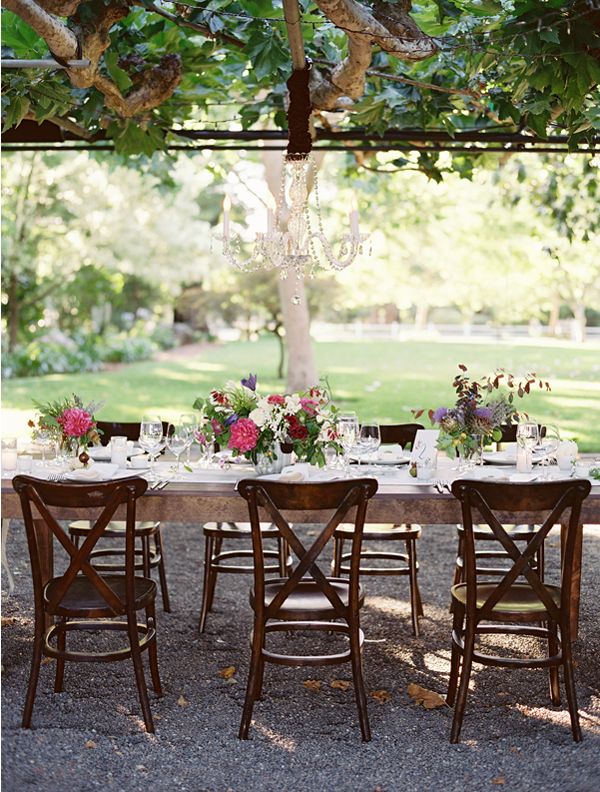 1. Botanical gardens
You can usually find a botanical garden near major cities. These venues are scenic, lush and potentially private – depending on which space you select. Many botanical gardens have multiple garden types within the grounds, so you can pick your favorite. The best part about this type of location is that there are already tons of plants and flowers. You may not have to purchase as many flowers because you'll already be surrounded by them – score!
2. Winery and vineyards
Wineries and vineyards are also beautiful options. If you choose a vineyard for your outdoor wedding, you'll be in the middle of a charming estate, with plenty of greenery and sweeping spaces. Wineries often have a cute building where the grapes are processed and are a wonderful option. Picture the sun setting over a rustic home with views of barrels and grapes. Sounds irresistible!
3. Waterfront areas
Whether you're near a river, lake or ocean, a waterfront wedding offers a stunning view and can be the perfect choice for your big day. These areas tend to be less private, especially if you're on a beach. However, watching the sun set on the horizon while waves crash behind you is well worth dealing with a few passersby. And you can take a few measures to make the venue cozier (such as adding an archway).
4. Mansions
Large historic estates are a great option for an outdoor venue. They have vast grounds and often feature gardens or verandas. The massive house can act as a backdrop to your nuptials and your guests may walk about the grounds between the ceremony and reception. Estates are also more private than some other outdoor options.
5. Rooftop spaces
Trendy urban couples might love to host their wedding on a city rooftop. These locations give you an amazing view of the city. You can dance surrounded by lights at night and enjoy a spectacular view of the setting sun. Rooftops are perfect for modern or industrial wedding themes. The biggest challenge with hosting a rooftop wedding or reception is the space. So if you want to invite a lot of guests, you might consider a different, but equally stunning, outdoor location.
Photo credit: Jose Villa via Once Wed