Saving money on all the items on your wedding planning checklist can be a challenge. The average cost of a wedding these days is well over $20,000, but not all brides have such a large budget. For that reason, some decided to cut costs from their gown by renting instead of buying. I mean, guys have been renting tuxedos for ages, so why not let the bride get her dress for a day, right? Of course, if you want to go this route for either your gown or the bridesmaids' dresses, take a look at these tips first: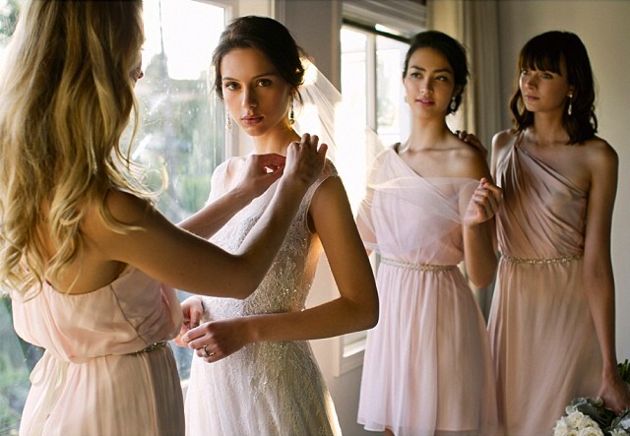 1. Review the rental company
You'll likely find a number of companies that offer bridal rental services, but you should research them heavily before paying for their services. Customer reviews and ratings are a huge help. Read their comments carefully as well to get a good idea of how others felt their experience went. Don't just look for bridal companies either. Places like Rent the Runway offer all types of designer fashion for the use of just a few days, including accessories.
2. Do a test run
Some companies even let you rent a few dresses for a single day in order to test the size and type of gown. This allows you to see if a certain look actually works as well for you as it did for the model you see wearing it online (I mean, how can you really tell if that fit and flare will work based on a tiny picture?). Of course, you'll have to pay for this service, but it's not as expensive as the actual rental rate.
3. Rent for extra days
Many rental sites will provide overnight shipping, free of charge, if your dress didn't fit or had some major flaw. Though this is a fast service, you still want to leave enough time in case there are issues. Order the gown or bridesmaids' dresses for a few days before the wedding. This gives you time to try them on and see how they looks.
4. Rent backups
You might also consider ordering a second size or style in case the first choice didn't work. Even if you plan to exchange an ill-fitting gown, ordering two is a good idea that will give you some peace of mind.
5. Consider alternatives
Before you decide to rent dresses for yourself or your bridal party, consider cost-effective buying options. Many bridal stores offer gowns for a very affordable price. Attend sales where the salon has to get rid of out-of-season dresses and consider asking to see sample gowns.
Photo credit: Yahoo Finance