The gentlemen in your bridal party are there to support you, the groom, as you prepare to marry the woman of your dreams. The groomsmen group is probably composed of your closest friends, brothers or cousins, so they mean a lot to you. Show your appreciation for all they've done throughout your life, and for your wedding, by getting them the perfect thank-you gift. Of course, the objects you purchase them should be fun, but also personal. Here are a few groomsmen gift ideas I thought you'd love: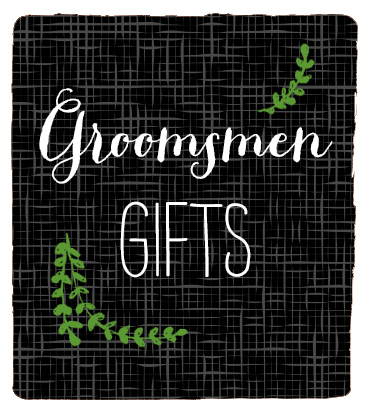 1. Flask
The guys will love a flask, especially one with their names on it. This gift has relaxed and celebratory message wrapped into a useful product. Give the gifts to the guys at your bachelor party, then fill them up and have fun! The guys will be able to reuse the gift for the rest of their lives.
2. Pocketknife
Every guy (and girl, really) needs a solid pocketknife. Whether you have to open a bottle of beer, cut rope, open a letter or just look totally awesome, a pocketknife is the way to go. Of course, the gift will feel more personal if you engrave the names of each groomsman on his knife. Your friends will never be caught unprepared again!
3. Personalized golf balls
If you and your buddies like to get together and play golf, why not say thanks for all their help by personalizing golf balls? You can get golf balls that display the colors of your wedding and carry the names of your best friends. Consider celebrating your coming nuptials by taking the new gift to the driving range. Of course, you should probably give each groomsman a whole package of personalized golf balls, especially if some of them aren't the best shot.
4. Cigars
Nothing says masculinity like a good cigar. If your groomsmen smoke cigars regularly, find out what their favorite brands and styles are. However, if you're not sure what their preference is, consider buying each groomsman a variety of cigars. Like coffee, cigar flavors come in light, medium and dark. Smoke each type of cigar during your bachelor party and decide which type is your favorite.
5. Money clip
Gentleman from all walks of life have secured their folded bills with a money clip. A sleek silver clip is great for friends with modern taste. Engrave their names in the metal for a keepsake that says volumes.