You sent wedding invitations to certain people because you want them to celebrate the most important day of your life with you. While you'll look back on your wedding photos with a sense of joy, your guest book is the ultimate reminder of who came. Of course, your guest book doesn't have to be an actual book – you can come up with a creative way to hold onto the memories of your wedding. Here are some of my favorite wedding guest book ideas:
Traditional
OK, so some brides don't want a crazy guest book idea – why fix something if it's not broken, am I right? A good old-fashioned hardcover is certainly a perfect choice for any wedding, no matter the theme or color scheme. For example, you can pick a burlap-covered book to fit your vintage or rustic wedding concept. After the wedding, you can store this bad boy on a shelf next to your wedding photo album.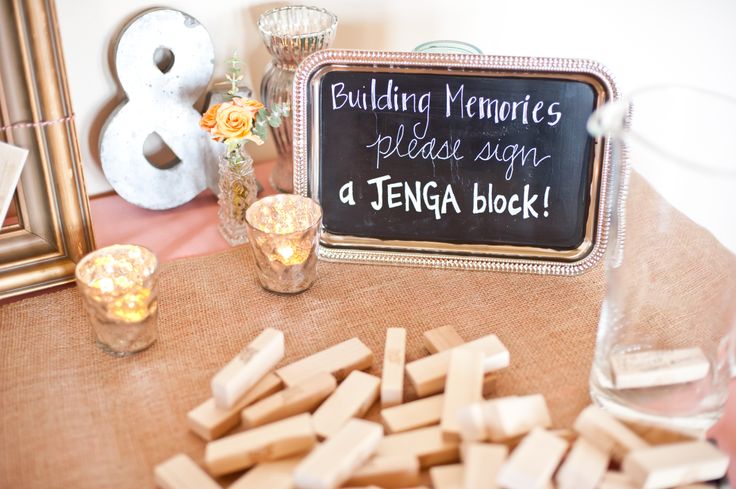 Jenga pieces
Jenga is a game in which players must slowly pull blocks that form a tower. The person who causes the tower to collapse loses. Many couples have set out pieces to this classic table-top adventure and asked their guests to leave a little note. Every time you and your new spouse play the game, you'll get to read the heart-warming messages left by some of the most important people in your life – awww!
Make sure to put out a good pen because most ball points won't take to wood. Instead, give your guests a super thin-tipped permanent marker to leave their comments.
Monogram
Rather than placing a guest book up front for all your guests to sign, get a giant wooden letter to nod to your new last name. You can get a plain one at the craft store and paint it whatever color you want! Ask guests to print their names legibly so you know who each signature belongs to. Make sure it's a huge monogram too, otherwise guests will run out of space. After the wedding, you can hang the letter in your house and look upon it with fondness.
Photo board
A photo board displays a picture of you and your fiance, and your guests will sign the mat surrounding the picture – you'll be metaphorically surrounded by well-wishes! Frame the board after the wedding and hang it in your house.
Puzzle pieces
Buy a puzzle and have guests sign the backs of each piece. You can even get a custom puzzle made that, when assembled, displays a photo of you and your fiance.
Photo credit: Matushek Photography via Project Wedding