Everyone wants their wedding to be a unique and memorable experience (I know I did), but many couples aren't sure how to pull it off. Fortunately, hosting a one-of-a-kind event is simpler than it may sound. The right details will bring your big day from awesome to legendary. Here are a few of my favorite ideas for having a trendy and unique wedding:
Doughnut cake
Picking a cake is probably somewhere on your wedding checklist, but it doesn't actually have to be a cake. In fact, many brides are opting for sweets tables or towers instead of a traditional multi-tiered confection. Doughnuts are the perfect alternative to a classic dessert because they do feature cake, but in a well-loved and delicious form. Also, doughnuts are super versatile! You can get large ones, miniatures or even doughnut holes in your choice of color and flavor.
Arrange the doughnuts of your choosing on a tiered platter to evoke the idea of a wedding cake while serving something totally different – and completely you!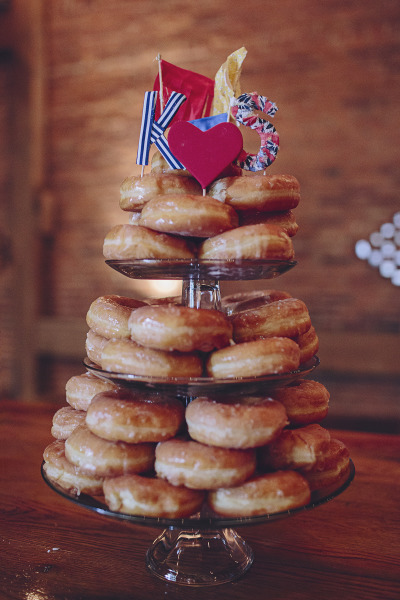 Paper plane send off
Leaving the ceremony site as a married couple will feel amazing! Traditionally, your guests line up outside and send you off with some kind of item. For example, bubbles are a common escort, and rice was a classic (though that's not allowed anymore). If you want a twist on an old favorite tradition, try paper planes. These simple send-off items will soar around you and your new spouse to remind you of all the places you'll go.
You can use paper that matches your color palette and even write cute sayings on the wings! For example, try something like "When the newlyweds walk your way, gently toss and yell 'Hooray!'" You can get your bridal party to help you fold the planes before the wedding. Test a few out to see just how true they fly.
Family-style meal
You could serve individual plates at your reception (it's certainly a popular choice) or you could think outside the box and go with a family-style meal! The benefit of this choice is that your guests will feel instantly comfortable at the table – they have to pass the plates, which can spark some great conversation. Family style is also a more cost-effective dining option – yes to that one!
The key to hosting a successful family-style meal is to have a la carte options. For example, pass around a delicious protein dish, several vegetable sides and a starch. You may also want a big bowl of salad and basket of bread for each table.