Crafting do-it-yourself components for your wedding is a great way to make your budget stretch. You can DIY a number of things on your wedding planning checklist, including decorations and favors. If you're a creative person like me, you may want to tackle the favors by designing them yourself. Here are a few super-simple gifts you can present your guests as a thank you for their support:
Trail mix
Edible favors are a classic choice because very few people will turn down free food. Trail mix is a fun and easy option, and requires only assembly. Start by deciding what you'll put in the trail mix. Be cognizant of your guests' food restrictions in order to avoid disaster. Some people are allergic to tree nuts or peanuts, for example. Ask around before creating the mix, and make a separate batch for anyone who has restrictions.
You can pour your mix into personalized bags that feature your monogram and wedding colors (it is your celebration, after all). You might also like bags that feature hearts (in honor of your love). Make customized stickers to place on the treat bags and tie it with ribbon or burlap (depending on the theme of your big day).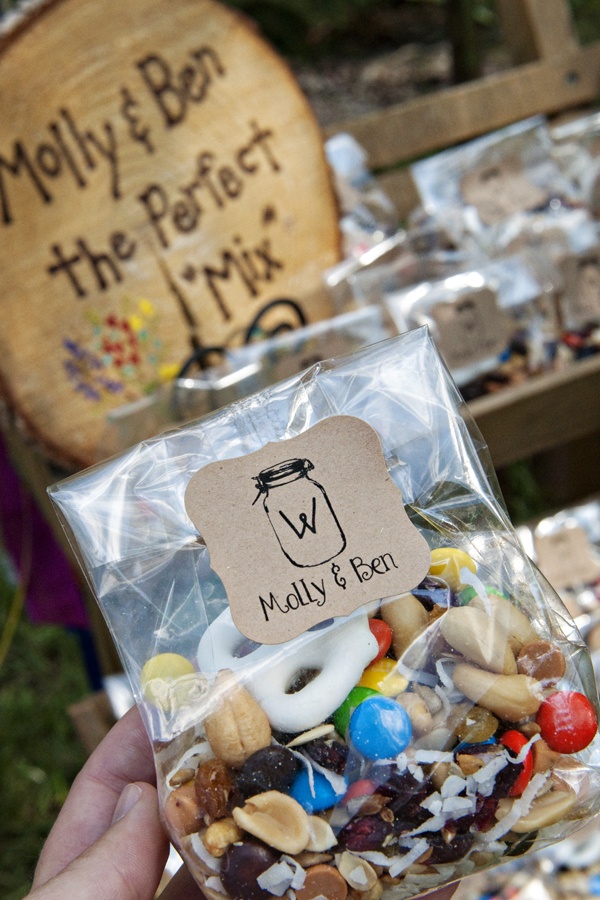 Caramel apples
This sticky, tasty and healthy-yet-unhealthy treat is an appropriate choice for a fall wedding. Apples are in season during that time of year, and many people fondly recall eating caramel-dipped varieties during childhood. You can package these cute and delicious desserts in clear favor bags and tie a ribbon to hold it all in place.
Chocolate-covered pretzels
The heavenly combination of sweet and salty is perfected in chocolate-covered pretzels. These delectable desserts are sure to be a hit at your wedding – I know I'd love them! You can make these at home, no problem, by melting chocolate in a double boiler. When the chocolate has turned to liquid, dip the pretzels. Let them cool and then you're set to go! You can enlist your bridal party to help you make the favors for a fun night with your friends (it's good to relax before the wedding).
Salt scrub
Of course, not every couple is enamored with the idea of giving food as a favor – it might get eaten before the night is even over! Salt scrub is a more lasting option. All you have to do is mix salt (Epsom or sea salt is the best option) together and place it in a container. You might even add a few drops of essential oils for a light fragrance.
Photo credit: Molly Jones Photography via The Wedding Chicks