Pink has been a popular wedding color for a long time – we've seen blush everywhere, including in wedding gowns! Of course, pink by itself is nice, but pink and another color will make your wedding! Metallics are a huge trend in the nuptial world, and silver is the perfect complement to pink. Try pairing the two shades for a totally beautiful, romantic and magical event. Here's how: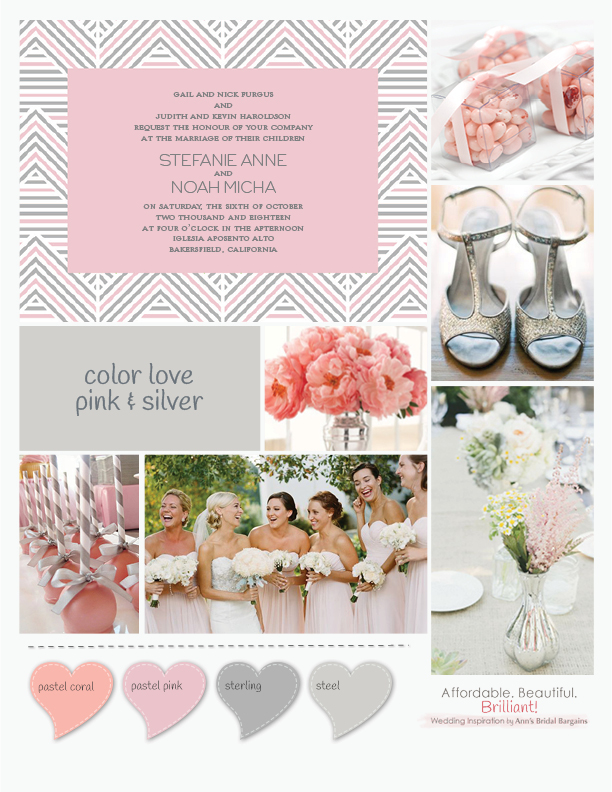 Floral and broach bouquet
Lots of brides are opting for a broach bouquet, which is essentially a globe of antique pins all glued together. But why not go outside of the box by mixing flowers and broaches? Pick pink flowers and add metallic adornments. A silver broach here, a few rhinestones there, and your bouquet will shimmer! You can either randomly incorporate the nonperishable items in your arrangement, or create a pattern. You can group all the broaches together in a line down the center of your blooms, for instance.
Pink and gray menswear
The groomsmen have to look sharp on your wedding day (they'll be in your photos, after all). Dress them up in pink and silver by selecting just the right suits. You can pick a gray three-piece suit to pair with a powder pink tie. For a more casual wedding, have the men wear gray slacks with white shirts and pink suspenders. Complete their ensemble with silver cufflinks (a perfect groomsmen gift) and a pink boutonniere.
Wedding invitations
Set the tone for your nuptial color scheme by selecting pink and silver wedding invitations. You can pick the shade of pink you like best and ensure the invites are in the right style. For an art deco look, go for Layered Chevron invites. These petite wedding invitations have all your nuptial information on a single card (saves trees and your money!). The chevron design features both pink and gray to match your color scheme to a T.
Silver slippers
Slide your feet into shoes that match your wedding decor by picking silver slippers (they're bound to be sturdier than glass). Whether you want to wear heels or flats, you can find the perfect wedding shoes that shine! You can purchase ones with silver fabric, or varieties that are adorned in sequins – what you pick depends on your personal taste!
Pink sash
Many brides decide to add a belt or sash to their wedding gown – doing so helps define your waist by accenting it. If you want a pink and silver wedding, consider making your sash a blush one.