These days, more and more brides are opting for a risky photo shoot known as trashing the dress that takes place after the big day ends. This session is all about attempting daring poses that could potentially get the gown dirty or destroyed. Of course, not all brides actually trash their wedding dresses – some simply take pictures that may leave a mark. The idea of the shoot is that because the groom is your one and only soul mate, you won't need the dress ever again. Also, will your daughter really want your gown? Here are some fun ideas for a trash-the-dress photo shoot:
Diving in
Having a destination or beach wedding leaves you with the unique opportunity to perform a romantic and aquatic photo shoot. You and your fiance could stand waist-deep in the ocean, gazing into one another's eyes or kissing. You might also recreate dramatic perfume commercials by laying in the sand together as the tide sweeps over your calves. Have fun and get creative by enjoying your time together. As long as you two focus on one another, the poses will come naturally.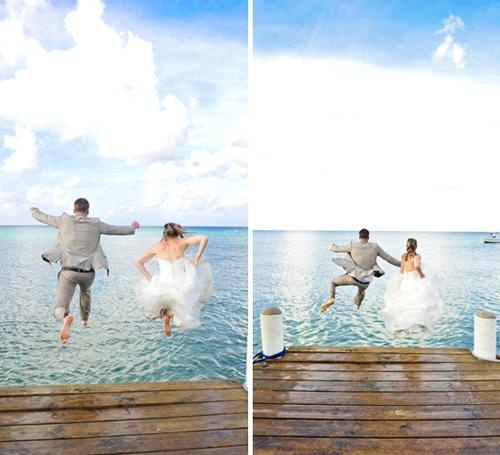 Forest romp
Take on the role of Snow White running through the woods by having your trash-the-dress shoot in a wooded area. Let the train drag behind you as you run between the trees looking for your fiance.
Laying in nature
Get an aerial shot of you and your fiance lying in grass, a pile of fall leaves or a wheat field. You can lie side-by-side or have your feet pointing in opposite directions (give each other a kiss while you're there). This photo shoot option looks a lot like the movie poster for the film "An Education."
Adventure time
Consider doing something fun and out of the ordinary in your gown, like horseback riding. You and your fiance will get to spend time together and you'll have your shot.
Photo credit: Donna Von Bruening Photography via Destination Wedding Mag