A beachy destination wedding is part nuptials, part tropical getaway. Because you're about to jet set to a faraway paradise, you probably want your big day to really capture your surroundings. You might have gone for a flowing wedding gown and strappy sandals, and planned on packing plenty of sunscreen. While the beach itself is gorgeous enough to be decor, you probably want to bring out the theme of your destination as best as you can. Few things scream beach like sea shells and coral. As you begin putting together your nuptial details, check out these top five ways to incorporate both motifs in your design:
1. Wedding invitations
Set the tone for your beach wedding long before the ceremony by selecting wedding invitations that feature shells. Your guests will open their envelopes to reveal a card that visually hints at the location of your big day. Need a little inspiration? Check out this Starfish and Seashells invitation – it combines elegant script with three beautiful shell designs certain to excite your guests. I know I'd be pumped to head to the beach!
2. The cake
Wedding cakes are almost a part of the decor because they can fit into your theme. Make your confection the perfect complement to your sandy destination by decking it out in coral and sea shells – it's tropical and delicious! You can either place real shells on each tier or have your baker craft edible versions. If you go with the latter, make sure to offer the bakery a picture of the types of shells you'd like to include – doing so makes their job a bit easier.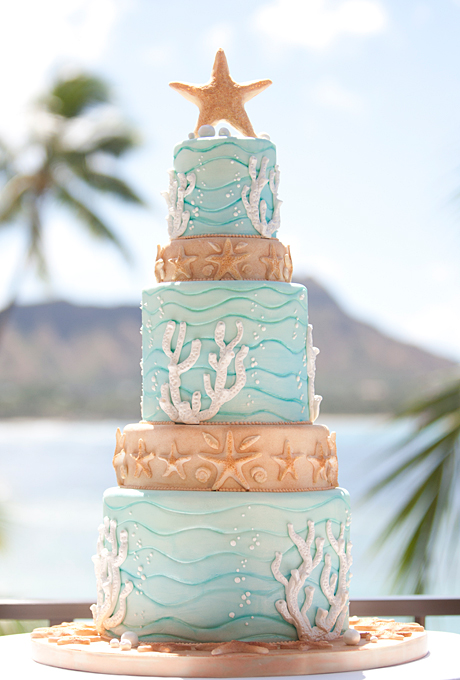 3. Accessories
Your bridal party can be a vision in beach if you have them wear sea shell accessories. The bridesmaids, for instance, may wear metallic starfish in their hair while the gents don coral branches in place of boutonnieres – think just how great everyone will look together!
4. Your bouquet
Some beach-going brides trade a floral bouquet for a craftier version. Gather shells from your favorite hobby shop and glue them together into the likeness of a bouquet. You can even add strands of pearls for a bit of flash that fits the locale.
5. Centerpieces
Add height and an under-the-sea feel to each of your tables by making coral the base of your centerpieces. You can spray paint each branch white, gold, silver, etc., and place them in with floral arrangements.
Photo Credit: Absolutely Loved Photography via BRIDES