Devising a color scheme is probably one of the most fun activities on your wedding planning checklist – at least, I think so! I mean, you get to go through swatches and pick out favorite hues! Of course, I do understand that the task can seem daunting for some, as there are nearly endless possibilities. If you need a little inspiration, consider going with one of the wedding world's hottest pairs: mint and gold. At once soft and bold, bright and pastel, mint and gold make the perfect pair (much like you and your fiance). Here are some fun ways to bring your mint and gold wedding to life: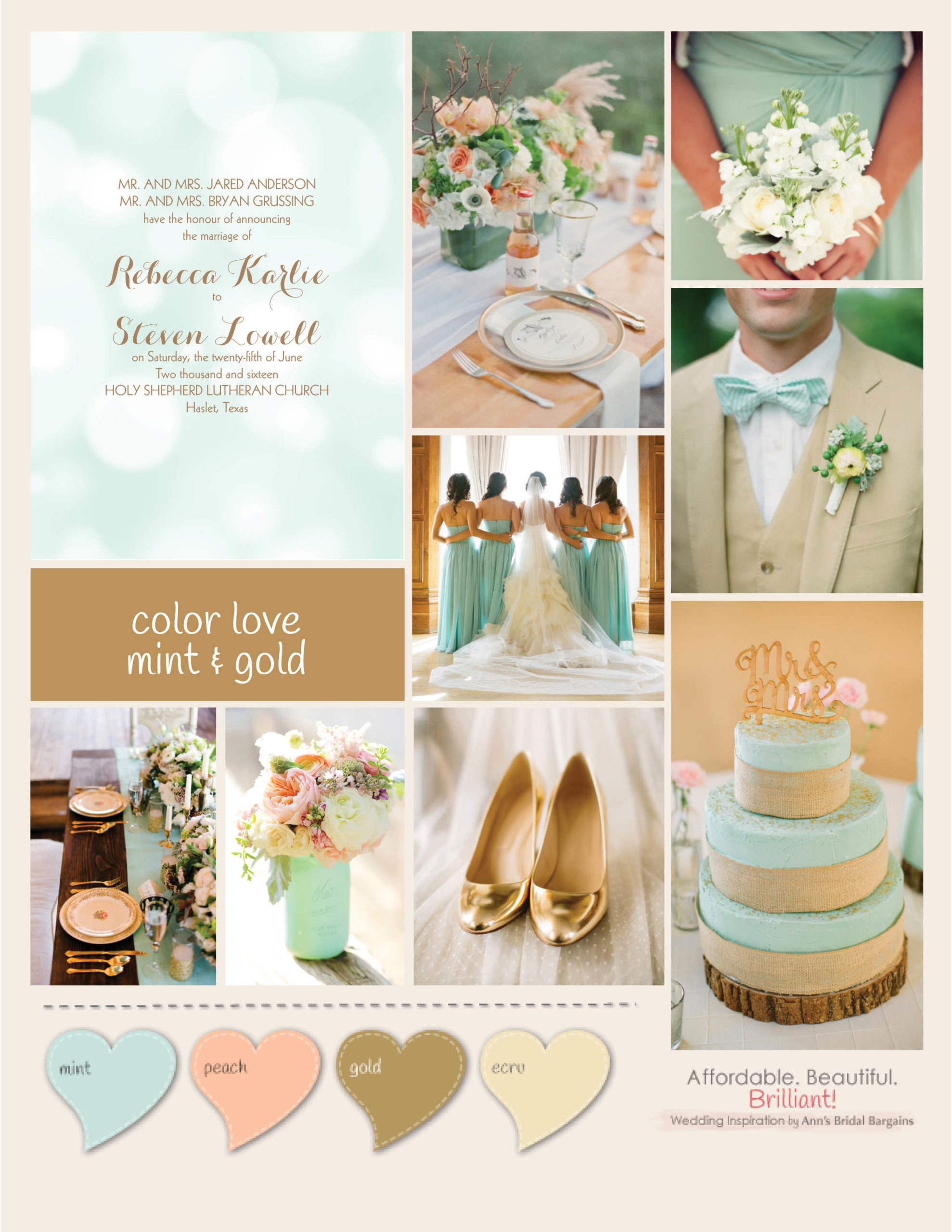 Keep the colors together
When couples create their wedding color scheme, they often end up picking which decorative elements will be one shade and which will feature the other. That leads to a wedding with dresses that are one color and a cake that's another. However, you can bring both hues together in one harmonious design! Pick several decor and dress pieces that will include both mint and gold. Try these on for size:
Cake: I love metallics for the sheen they bring to a color scheme. Think of how amazing your wedding cake will look with mint elements and a splash of gold – talk about shimmering! Let your baker get creative with your cake, designing towers of mint tiers covered in broad brushstrokes of gold. Or you can create an orderly and timeless confection by using gold filigree on a white-and-mint cake. Take risks and have fun designing your dessert.
Bouquet: If gold and mint is the perfect balance of sparkle and pastel, then a bouquet is the right blend of organic and inorganic. Select mint-colored flowers and succulents for your bouquet, then add bits of gold. You can have spray-painted twigs or flowers made of metal.
Spread the word
No event is complete without wedding invitations – how will your guests know where to go without them? Don't forget to coordinate your stationery with your color scheme by choosing invitations that are the right color. The Pretty Bubbles invitation in mint from Ann's Bridal Bargains features a dusty background with white overlaying circles – how perfect is that?
Have fun with textures
Featuring all that mint and gold in your wedding will look nice, but you can add dimension to the scheme by incorporating unique textural elements. For example, your cake can have a ruffle effect, your tables can be topped with mint lace and the gold elements can feature a unique finish – hammered and polished are two popular metal finishes.
Photo Credit: Table Setting: O'Malley Photographers via Style Me Pretty, Bridesmaid dress: Kimberly Jarman via Style Me Pretty, Bride and Bridesmaids: Esther Sun Photography via Style Me Pretty, Groom: Elisa B. Photography via Style Me Pretty, Table Setting: Loverly, Mason Jar: Corin Krogh via Ruffled, Gold Shoes: Mustard Seed Photography via Ruffled, Wedding Cake: Mustard Seed Photography via Ruffled