After working in weddings for some time, I've noticed that brides stress about how to do things the "right" way. Etiquette can be a big deal, as your wedding is a formal event (at least more formal than other celebrations). So, I've decided to ensure you feel confident about the steps you're taking in conquering your wedding planning checklist by sharing my knowledge. The topic for today is save the dates. Here are a few questions I hear a lot: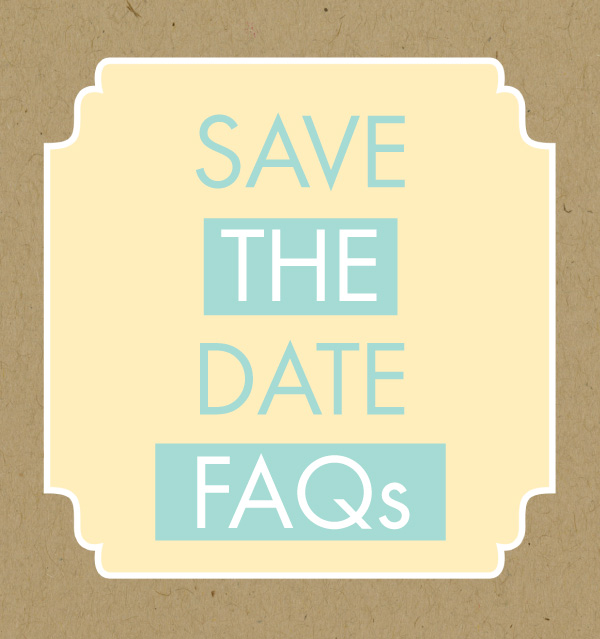 How are they different than invitations?
The world of wedding stationery can get confusing, I admit, but each card really does have its own purpose. Save the dates are the cards you send to your guests before the invitation simply to let people know when your wedding is taking place. You're literally asking your guests to avoid scheduling anything on the day of your wedding, which is why you send them very early on in the planning process. Unlike the actually invitation, save the dates do not give much specific information regarding your nuptial day. They're more of an announcement with a date.
When should I send them?
Because save the dates are meant to prevent guests from scheduling over your wedding, you want to make sure to give plenty of warning. Generally, brides mail the save the dates about six months before the big day. At half a year out, most people don't have plans. If you're having a destination wedding, send your save the dates about eight months in advance so guests can plan for traveling.
What information should they include?
As you know, save the dates contain the actual date of your wedding. In addition to that, the way you address the envelope should let guests know who exactly is invited. If you want a whole household to attend, write "The Smith Family" on the envelope. Conversely, if you only are inviting one person, write "Mr. Adam Smith."
To find the perfect save the date for your big day visit Ann's Bridal Bargains. My personal favorite is magnet save the dates!