Trends explode in the wedding scene every year, making an appearance at nuptials across the country. This year, 2014, is no exception, and brides and grooms are planning their big day to include some of their favorite looks. As you go down your wedding planning checklist, consider incorporating a few of your favorite and most popular details. I figured, as you all are hip to the groove, you might enjoy checking out some of my most beloved trends. The letter of the day is T, and here's a look at some of the trends that fit into the category:
Tassels
This relatively new trend has erupted on the wedding scene. Tassels are making an appearance in all aspects of nuptial decor, and they come in numerous designs. You can create paper tassels by hand or seek out cord varieties such as those common on curtains and graduation caps. Either make your own tassels by purchasing the proper materials at a craft store, or buy them – resale shops are a good place to start, but you can always fall back on home decor retailers.
Ways to employ tassels: Creative couples have hung strings of tassels over their sweetheart tables and ceremony space to add a little flare. You can also hang them from the back of your chairs or at the ends of your ceremony seating aisles. Tassels may even hang from your wedding cake or be a part of your favors!
Topiaries and terrariums
Floral arrangements are a staple at weddings, but couples are getting creative (and budget-savvy) with their plants this year. Instead of going for bloom-centered decor, brides and grooms are picking greenery. By arranging unusual plants along with flowers, your wedding can be totally eclectic and completely gorgeous. Additionally, reducing the number of flowers at your wedding by replacing them with greenery will cut down the size of your plant price tag – score!
Ways to employ topiaries: Create a topiary or artistic plant sculpture by choosing small trees for your centerpieces. You can have the florist trim the tiny trees in creative shapes. You can also select terrariums as your centerpieces. Terrariums are essentially glass boxes that house dirt and plants. Your guests can peer at a combination of succulents and bright blooms as they eat.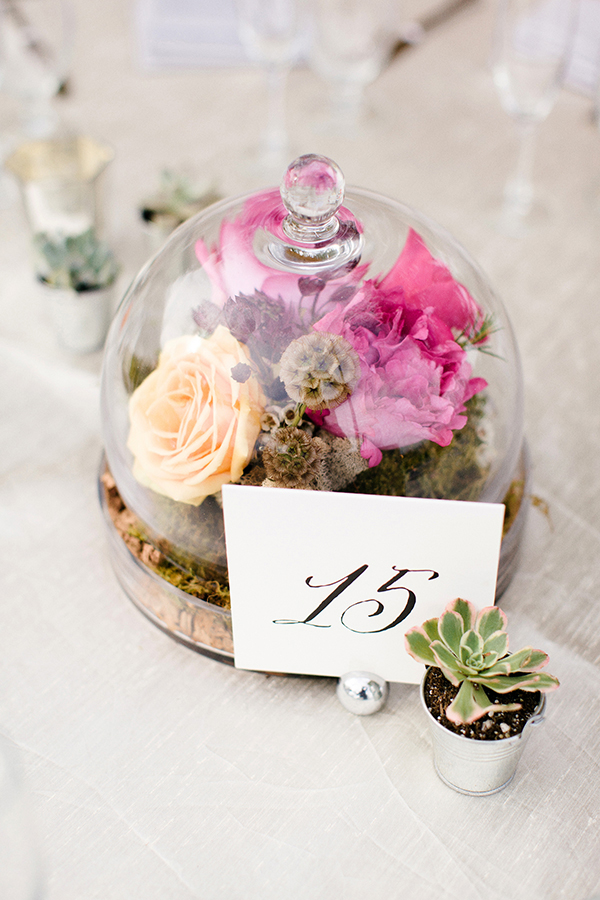 Themes
Choosing a theme for your wedding can't really be called a trend – people have been doing it for years! But today's chic couples are going above and beyond a simple concept to ensure every last detail adheres to their idea. The music, food, decorations, favors and even clothing can all support and enhance the theme you select for your big day.
Ways to employ a strong theme: Let's say you're having a wedding based on "The Great Gatsby," which has been a totally hot concept over the last few years. The story takes place in the roaring '20s, so all of your details should come from that time period. Get art deco wedding invitations, play hopping jazz tunes, dance the Charleston, serve classic cocktails and dress in a period-inspired wedding gown. Pulling off a strict theme can be difficult, as you have to do your research. But the final product is well worth the effort, especially as you immerse in the dream you've created.
Textured cakes
Fondant allows bakers to form smooth cake surfaces, but now they're using the tool to create textured masterpieces. Want ruffles on your cake? You can have it! Like the look of pleats? Why not? Whatever fun and tactile design you can imagine is perfectly on-trend for 2014.
Ways to employ textured cakes: Pick a texture that supports the rest of your wedding decor. For example, if you want a ruffled cake, you can also select ruffled table linens.
Photo Credit: Elaine Palladino via Southern Weddings