A wedding ceremony is all about the joining of two people. You and your fiance will share your lives, families, money, etc., from the moment you say "I do." Many ceremonies include a ritual to represent this joining process. For example, couples might each use a candle (representing themselves and their families) to light one larger candle (representing their new family). As guests watch the ceremony, they'll get a visual representation of what marriage means. While this tradition is lovely and meaningful, you might want to try something a little more unique. As you go down your wedding planning checklist, consider incorporating one of these unity rituals in your big day: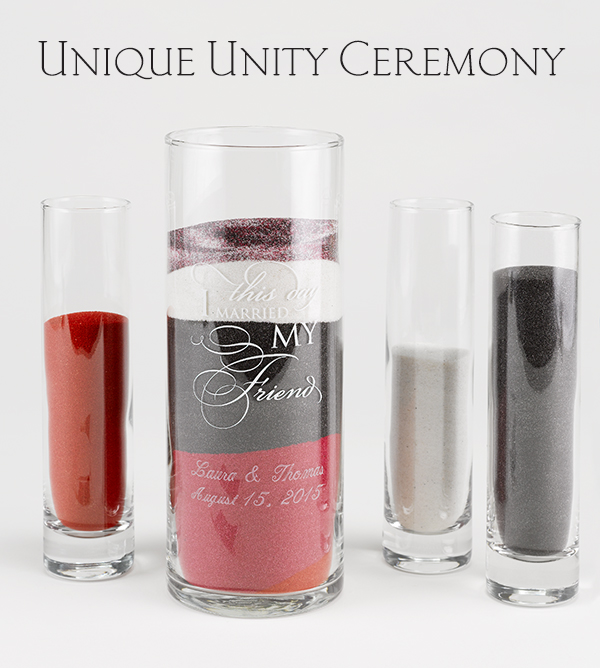 Sand ceremony
Have you ever noticed how fine a grain of sand is? It's so tiny it's almost immeasurable. This is why many couples choose to combine sand at their wedding. During a sand ceremony, the bride and groom will each hold a container of colored sand. They then pour it into a glass vase or jar. The idea is that because the grains are so fine, the couple will never be able to completely separate them. Some couples layer the sand in such a way that the final product looks decorative. Even in this case, scooping out sand a layer at a time won't completely part the two colors. Just like you and your soon-to-be spouse, the sand grains will stay together forever.
If you decide to have a sand ceremony at your wedding, you may want to pour your grains into a glass vase that has a personalized print. For example, the This Day Unity Sand Ceremony Vase Set from Ann's Bridal Bargains features the date of your wedding, your names and a customizable phrase, such as "This day, I marry my best friend." Whenever you see the decorative container in your new home, you'll be reminded of your wedding day.
Knot-tying ceremony
When people say they're tying the knot, they refer to this traditional unity ritual. Though technically called a hand-fastening, tying a knot exemplifies the same ideas as a unity ceremony. You and your fiance will tie a fisherman's knot together during your wedding. This knot only gets tighter and stronger as you pull on it. Such a knot is a beautiful representation of marriage, as it symbolizes how your love will strengthen as you face hardship. Practice tying your knot in the days leading up to your wedding – you want to make sure that you create the right knot and that it will be strong. You can even frame the rope in a shadow box and hang it in your new home as a reminder of your love.
Painting Ceremony
Living life is like painting an image from up close. You may not always know what the big picture will look like, but you can be sure it will be beautiful. Of course, the act of painting, like life, is more fun and fulfilling when done with someone else, so hand a brush to your fiance. You can purchase a small canvas and paints to use at your wedding. Decide upon a simple image, such as a bright red heart on a white background, and paint it together during the ceremony. Have the maid of honor and best man hand you brushes when the time comes. Someone can also hold the paint palette – avoid giving it to the bride so she doesn't accidentally get some color on her pristine gown. You can also add the date of your wedding to the picture and hang it in your home after the big day comes to a close.