Most couples imagine sun and warmth on their wedding day, but it's got to rain at some point. Unfortunately, you can't predict the weather at the time you book your venue, so if you're having your nuptials outside, you're kind of stuck there. However, what most couples fail to realize is that a wet forecast doesn't have to leave you all washed up. In fact, you can embrace the rain to have a creative, fun and totally one-of-a-kind wedding. Check out these tips for making the most of rainy weather as you complete your wedding planning checklist:
1. Establish a contingency plan
While you should take the opportunity to prance about in the rain (you'll get some great photos), your guests don't want to sit through your ceremony dripping wet. If you're hosting an outdoor wedding, make sure to plan a rainy-day alternative. Many venues have indoor retreats you can escape to, though you might also want to reserve a tent or shelter. Make all the arrangements during the time you book your venue so you won't have to panic last minute. Should you see rain in the forecast a week or so before your big day, you'll have everything under control.
Consider including a rain card in your wedding invitations. These additional pieces of stationery will detail the alternate plan should the weather take a turn. Your guests will know where to go thanks to your preemptive thinking.
2. Invest in umbrellas
Umbrellas not only keep you dry, they are an adorable accessory that will look great in your wedding photos. Should you see storm clouds on the horizon, head to the store to purchase matching umbrellas for your entire bridal party. You can get ones that fit your theme or color scheme to have a complete look. Are you and your fiance big fans of "How I Met Your Mother?" Consider getting a yellow umbrella for yourself and black ones for the rest of your party.
You can even share an umbrella with your new spouse – these tiny shelters let you snuggle up together for a cute and close moment. Just make sure your photographer gets a shot of the two of you sitting beneath your umbrella!
3. Step into rain boots
Plastic rain boots can be super cute as far as footwear goes, so think about embracing them as part of your rain contingency plan. Get a pair that matches your color scheme and looks great with your gown, then don them for your photo session. Take a few shots holding the hem of your dress off the ground, showing off your shoes. Your bridesmaids will also look chic in their rubbery footwear.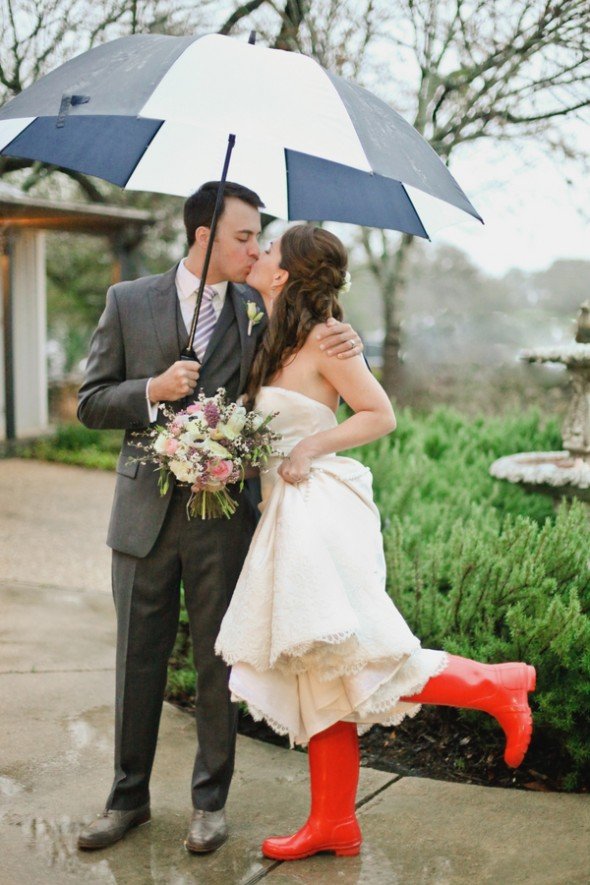 4. Add hot drinks to the cocktail menu
Rainy weather makes people want to snuggle under a blanket with some nice tea, coffee or hot cocoa. Provide this luxury for your guests by adding warm beverages to the menu during cocktail hour. While you and your wedding party are out snapping some photos, your guests can cozy up with their liquid refreshments. Call the caterer as soon as you learn of a rainy forecast to make sure they can provide this service.
5. Take photos outside
There's something inherently romantic about getting caught in the rain. Perhaps the weather provides an opportunity for love to blossom – you can dash into a tight shelter space. Or maybe rain makes you vulnerable. Couples who kiss beneath the drops would rather be together in the moment than run off to a drier location. Make the most of this romantic atmosphere by taking pictures outside. Your photographer will love it – overcast weather is the perfect lighting!
Photo Credit: Number 9 Photography via Rustic Wedding Chic