When you walk through the maternity wing of a hospital, you'll see cribs filled with bundles of blue or pink. For ages, we've associated the soft but warm shade of pink with girls and the cool tone of blue with guys. Now you and your fiance are all grown up and ready to join your lives together. So why not play up the whole boy-meets-girl story trope by using pink and blue as your wedding colors? These hues, while not complementary in terms of color theory, are a lovely blend sure to create a beautiful wedding.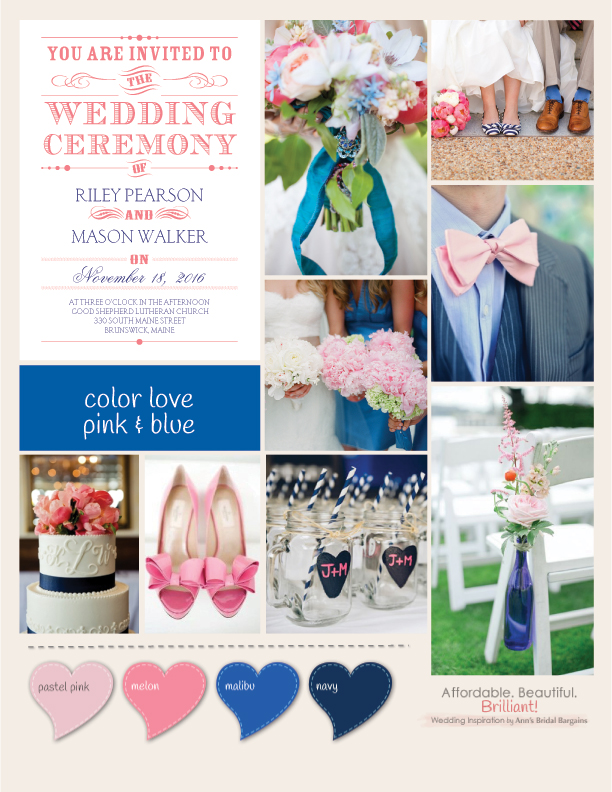 Boy/girl contrast
If you like the idea of using pink and blue in your wedding for the boy/girl symbolism, you can make the idea more apparent by divvying up the colors by gender during your ceremony. You can achieve this several ways: First, consider dressing the groomsmen in navy tuxedos or suits and the bridesmaids in pink dresses. This dichotomy will play well while the entire party is standing up in your ceremony. Additionally, you can divide pink and blue by seating. In many weddings, the ceremony seating is composed of a "groom's side" and a "bride's side." Family and friends sit in sections based on who they know. Decorate the backs of the chairs on the bride's side in pink ribbon or flowers, and dress up groom's side seating in blue.
Sand ceremony
Once you're married, you won't just be boy and girl anymore – you'll be a married couple. Display your oneness by completing a sand ceremony. This unity ritual features the bride and groom pouring sand simultaneously into a single container. The idea is that the grains of sand are too small to ever separate them completely. Consider using blue and pink sand to exemplify your wedding color scheme. Performing this ceremony is also the perfect lead-in to your reception.
Let not man separate
Your reception is all about bringing together you and your fiance, as well as your families. Use your color scheme as a metaphor for your new union by bringing blue and pink together. Where they were separated during your ceremony, the hues can mingle during the party. For example, use vases full of pink and blue blooms as centerpieces, or pick a cake that uses both shades.
Blue and pink inspiration
Need a more visual example of combining pink and blue? Take a look at the Typography on White wedding invitation from Ann's Bridal Bargains. This creative invite features several fonts and the option to choose multiple ink colors. You can print your names and the date of your nuptials in blue and the rest of the info in pink!
Photo Credit: Bouquet: Southern Weddings, Bride and Groom Shoes: Southern Weddings, Bride with Bridesmaids: Melissa Schollaert Photography via Elizabeth Anne Designs, Bow Tie: Loverly, Wedding Cake: The Merry Bride, Pink Shoes: Burnetts Boards, Mason Jar Glasses: Southern Weddings, Chair Ends: Harwell Photography via June Bug Wedding