I've gotten my color swatches out again to bring you another combination that could be perfect for your wedding. What do you think of navy and yellow? I love the pair because it brings together the strong, classic and easy-to-match feel of navy with the fun, energetic and lightness of yellow. Like you and your future spouse, these two hues complement one another very nicely. If you and your fiance are on board with this color scheme, check out these ideas sure to have you conquering your wedding checklist in no time: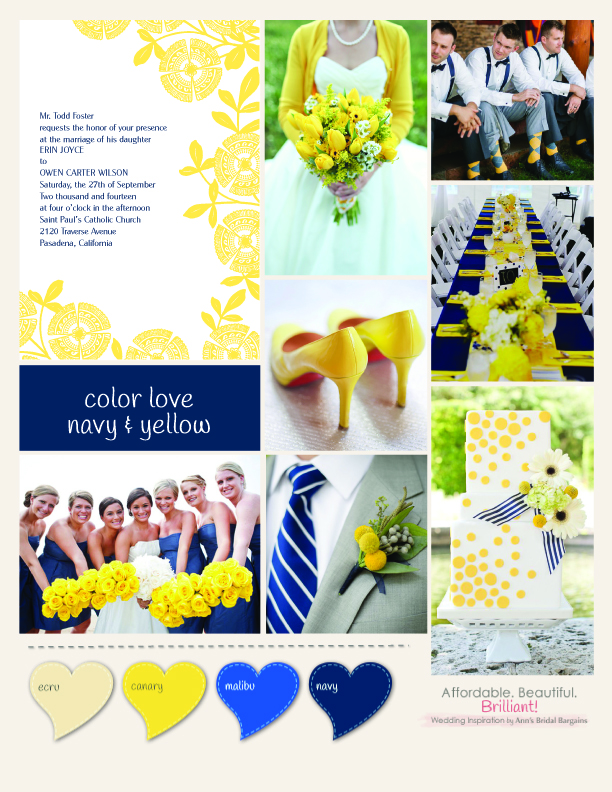 Lanterns and pom poms and vines, oh my!
Never underestimate the decorations that go over your guests' heads! Lighting and decor that dangles from above can create a canopy that matches your color scheme. If your style is whimsical and modern, consider hanging an arrangement of oversized paper lanterns and pom poms. These spherical fixtures can be made using navy or yellow paper. You don't have to designate a certain hue for each – both pom poms and lanterns can feature both shades! You can even add vines to the mix to give the overall art piece an organic touch. Situate the arrangement over your sweetheart table at your reception, or near the alter during your ceremony.
Flowers galore! 
You can find so many amazing yellow blooms to include at your wedding. Daisies and sunflowers are beautiful, but why not go for something a little more eclectic and surprising? Check out these unique flower options that will match your wedding color scheme:
Craspedia: More commonly known as Billy balls, these bulbous flowers feature a round pod dotted in yellow spores. Each pod is about the size of ping pong ball. Their look is certainly different from your typical wedding flowers, which makes Billy balls a fun choice. Use a couple in your boutonnieres along with blades of grass, or mix them into your bouquet.
Orchids: Orchids come in a variety of colors, including navy and yellow. These tropical blooms have a very iconic appearance that is sure to turn heads.
Elegant invites
The navy and yellow combination can create a classy look for your big day. If elegant is the feel you're going for, consider sending out the Modern Floral Canary Invitations from Ann's Bridal Bargains. These neat and sophisticated invites feature bright yellow flower drawings and navy lettering – perfect for your scheme! Both the reception and response cards match the invite.
Photo Credit: Bride with yellow sweater: Woodbery Photography via Glamour and Grace, Groomsmen with yellow socks: Jeff Sampson Photography via Wedding Chicks, Yellow shoes: Sonya Yruel via Ruffled, Navy and yellow table: The Knot, Bridesmaids and bride: Hendrickson Photography Weddings via Bridal Musings, Navy tie: The Knot, Yellow polka dot cake: Style Me Pretty