Your wedding checklist is full of items that carry a price tag. Your stunning wedding gown and breathtaking venue, for instance, cost something, which is why you have a budget. These nifty financial guides help you spend only the money you're willing to part with, plan which categories get the most funding and protect your sanity. However, many brides, in all their budgeting wisdom, still manage to miss some important expenses. Don't be counted among those who broke their budget thanks to a little oversight! Here are the top 10 hidden wedding costs: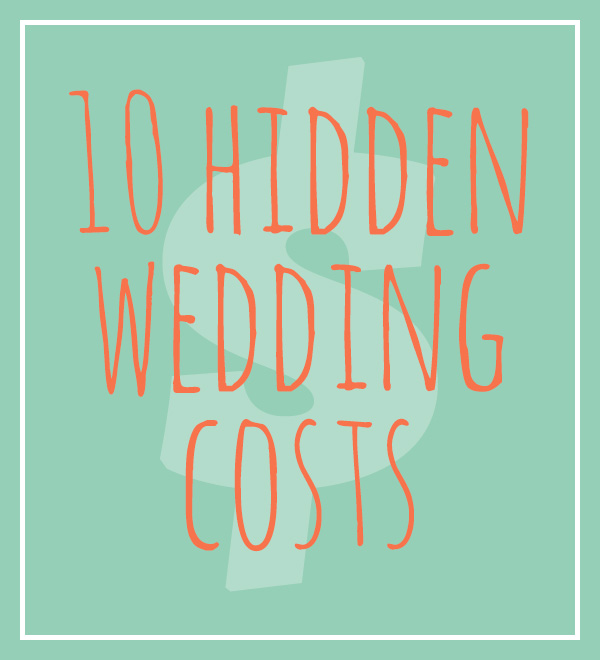 1. Dress alteration and steaming
Your gown should fit you like a glove on your wedding day, but achieving the look likely requires some tailoring. Alteration isn't a cheap process – it can cost as much as half the total of your dress! Additionally, you'll want the garment steamed to get rid of any wrinkles. Purchase a gown that's under budget and factor in alterations when you say yes to the dress.
2. Trial beauty treatments
If you're getting your hair, nails and/or makeup done for your wedding, don't forget to account for the trial run. This is the time when the artist tests various styles on you before your big day. You get to choose the look you like best, but the service isn't free. Also, many artists charge for travel expenses.
3. Service and gratuity
The people serving your food and drink at the reception want a cut of the action, which is why you'll see a service charge on your bill. Tips are also important. Plan on saving about 20 percent of the total food and beverage charge to put toward service and gratuity.
4. Cut and cork
While we're talking about meal time, let's cover cutting and corking fees. If you buy your cake from a bakery or the wine from a winery and not the venue, you may be charged a cut and/or cork fee. This is because the staff of the venue will have to cut cake and open booze that isn't theirs.
5. Overtime
Your wedding has to end at sometime, and going beyond the agreed upon limit will cost you. Your band or DJ, and the venue will charge for staying late.
6. Transportation
You, your new spouse and your guests will have to get from the ceremony to the reception or from the party to a hotel. Many brides and grooms opt to offer a shuttle service, but doing so will add to your total wedding bill.
7. Set up and tear down
The staff at your venue is happy to set up tables, chairs, linens, etc., for you because they can charge extra money. Ask if tear down and set up is included in the flat rate, or if it's an additional fee.
8. Wedding day accessories
The ring bearer pillow, flower girl basket, unity candle and cake serving silverware are all little things that add to your big day – include these props in your budget.
9. Postage
If the envelopes carrying your wedding invitations are heavy, you might need extra postage. Create a sample ready-to-mail invite and see how much it costs.
10. Bridal accessories
Include your veil, jewelry and shoes in your dress budget.
As a general rule, designate about 20 percent of your total budget to go toward these extra costs.