Using organic and outdoor elements in your wedding is a beautiful way to add a sense of calm to your big day. Nature is full of lovely colors and patterns that can give your nuptials the feel of a fairy tale or a sense of woodsy adventure. No matter which theme (provided by Mother Nature) you'd like, you can use a birch motif to make it happen. This tree is known for its stunning white bark and light wood. The bright colors are sure to make your decor memorable. Here are a few ways to incorporate birch that I'm confident you'll love: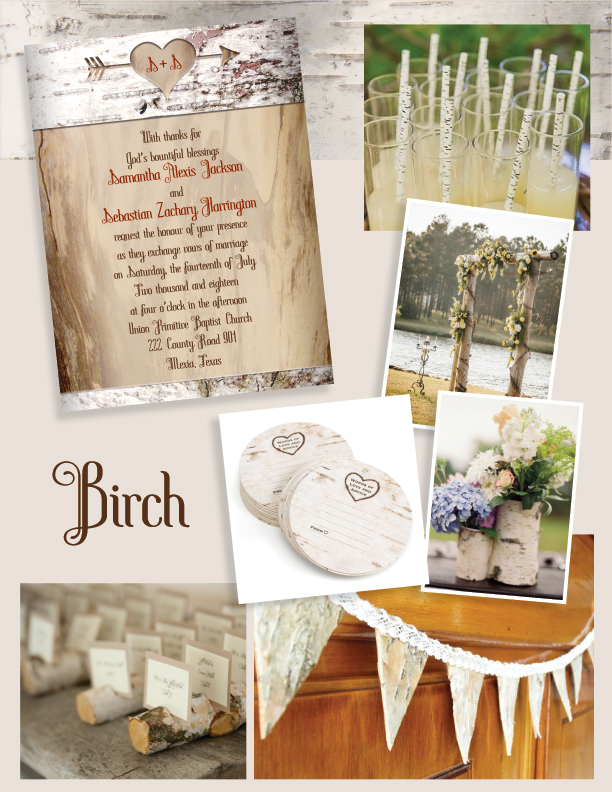 Wedding invitations
Set the tone for your wedding by selecting invitations that carry your motif – in this case, that means purchasing tree invites. The Aged Birch Petite Invitations from Ann's Bridal Bargains are my absolute favorite option. This set comes with matching reception and reply cards. All of the stationery harkens to the days of carving your initials on a tree. The invites feature a white bark banner on the top and bottom with a light wood background in the center. The bark displays a carved heart with you and your fiance's initials inside – cute, right? The invitations are rustic, adorable and perfect for your nature wedding!
Log centerpieces
You can take a long branch of birch (that's at least 4 inches in diameter) and use it to create outdoorsy centerpieces, which are best for long tables. Drill large holes along the tree branch in which you'll place flowers. The hole doesn't have to go all the way through the branch, just deep enough that you can set things inside. Consider placing small vases filled with flowers or candles in each hole. This centerpiece looks very outdoorsy when complete and is low enough that guests can see across the table.
Plates galore
Chargers are the plates that don't actually hold food. They're typically decorative and hold other plates (such as a salad or entree plate). Get creative for your big day and use a slice of birch trunk as your chargers. The tree cross section should only be about an inch thick. You can use the makeshift plates to set your wedding cake upon as well!
Grand old arch
Use several large birch branches to construct an archway under which you and your fiance can say "I do." Consider adding flowers and vines to the decor piece to give it an even more bohemian feel. You can also ask a handy person in your family to build the arch – you want that baby to be sturdy!
Photo Credit: Birch Straws: Things Festive Weddings, Birch Arch: Enamore by Mark Williams Studio via Rustic Wedding Chic, Floral Centerpiece: Jill Thomas Photography via The Sweetest Occasion, Card Holders: Armor and Martel via Elizabeth Anne Designs, Banner: Jaden Rai Inspired via Rustic Wedding Chic