I love bringing you brides a bunch of fun color combinations – everyone planning a wedding needs some inspiration! However, this time I wanted to go a different route with my color scheme presentation. The hues you pick for your big day can fit into an overarching theme. As today's colors are blue and lime green, I thought I'd share some totally out-of-the-box ways to incorporate the shades into these concepts: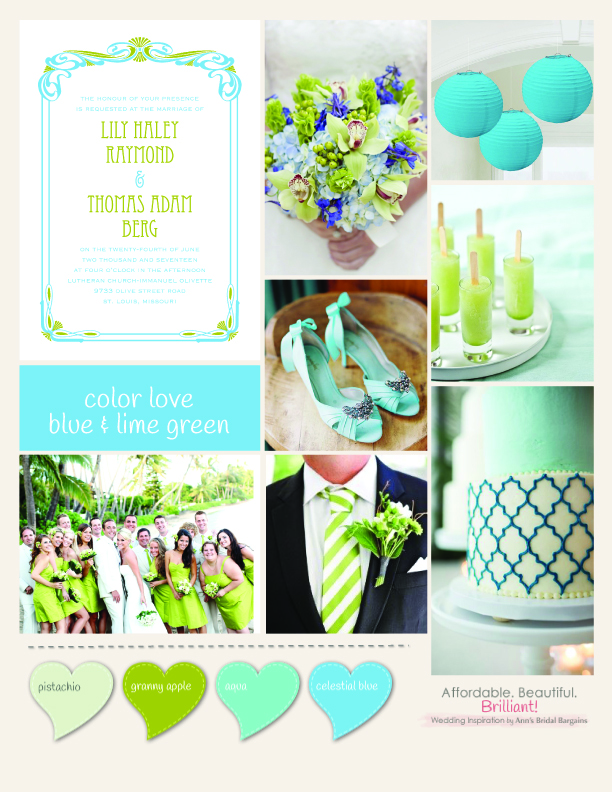 Art nouveau
The art nouveau movement centered around design as it pertained to fashion, architecture and art. Some of the defining characteristics of the look include fluid lines, organic subjects and curving shapes. The movement was popular from the late 1800s through the early 1900s.
You can use art nouveau as a vehicle for your blue and lime green color scheme! In fact, one of my all-time favorite wedding invitation designs does just that. The Art Nouveau Invitations from Ann's Bridal Bargains features an ornate twisting frame that outlines your information. The blue and lime green make an organic-looking pair perfect for announcing the date of your big day. It's also a good piece of inspiration when designing the decor for your nuptials.
Retro carnival
The thrill of attending a traveling carnival is one you can impart on your big day (with a little extra class, of course). Bring together the big-top classics like entrance tickets, striped patterns, bright lights and kitschy stands. For example, you might have a kissing booth where the bride and groom can smooch (not to mention some of the couples attending your wedding). Booths are a blast and a great way to entertain your guests! Photo, temporary-tattoo and fortune-telling stands are other options.
As you've probably figured out, all these carnival ideas can be made to fit your blue- and lime-green color scheme. Your wedding can even feature an entrance similar to the tent at a circus. Create green-and-blue curtains through which your guests can pass.
Fresh and modern
Using the blue and lime green colors, you can design your nuptials to reflect a more contemporary sensibility. Incorporate the green throughout your wedding with floral arrangements. Bouquets dominated by greens are a modern trend you're sure to love (and that's easy on your wallet!). Your wedding cake, table linens, bridal party ensembles and even cocktails can also be modern, as well as green and blue. Just remember that a contemporary style is characterized by clean lines and simplistic design.
Do you have a theme idea that's a perfect fit for blue and lime green? I'd love to hear it!
Photo Credit: Bouquet: Loverly, Margarita popsicles: Chic Costal Living, Blue Shoes: Wedding Chicks, Bridal party: Loverly, Groom: Wedding Window, Blue Cake: Style Me Pretty