Whether you're hosting a black-tie affair or an informal wedding, you can never go wrong with a black-and-white color scheme. I love these colors for a wedding, and who wouldn't? They create a classic, yet chic atmosphere that would make any bride feel elegant. Put a little Paul McCartney and Stevie Wonder on the record player and set the needle to cue "Ebony and Ivory," to get you in the planning mood. Just whip out that wedding checklist and get to it.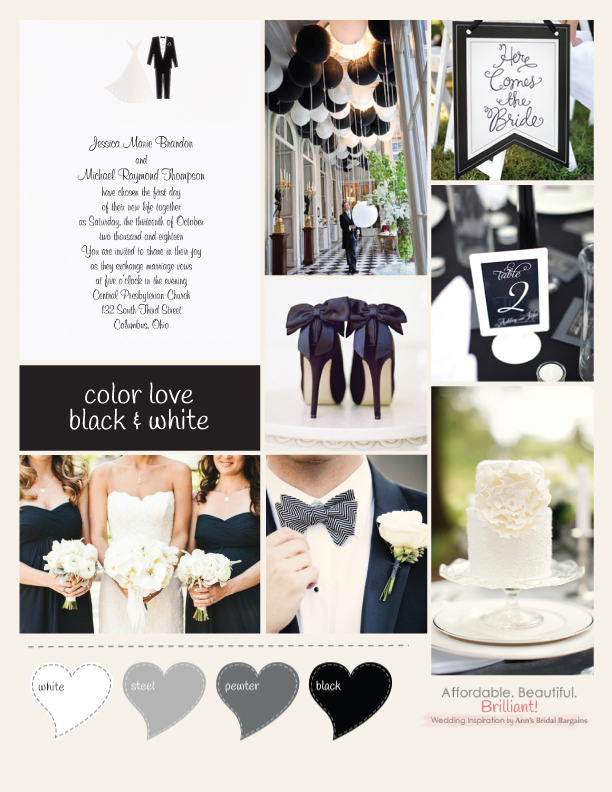 Perfect floral harmony
With the smooth sounds of the 1980's playing in the background you start to feel the wedding groove. keep the feeling alive by planning your floral arrangements first. I understand if you feel an initial anxiety with the idea of designing a black-and-white bouquet, but stay calm. Finding the right balance of white and dark flowers is much simpler than you think.
Tackle the white flowers first – with so many to choose from, you can find the exact size and delicacy you expect. Some white blooms that look beautiful in bouquets include white roses, calla lilies and Queen Anne's Lace. Black flowers are slightly more rare, so give your guests something to be in awe over with a few black or deep burgundy blooms. Some flowers that gorgeously contrast against white include black scabiosa, deep chocolate cosmos and black alocasioa leaves. These three dark hues look well mixed together, or featured solo against a totally white bouquet. To ensure that the contrast looks stunning and not cheap, try and keep things to a 70-30 ratio of white to black. This will keep the centerpieces looking light and airy.
Side by side
Black-and-white stationery offers so many options. It is both elegant and chic in its simplicity, without seeming too gaudy. The Ann's Bridal Bargains All Dressed Up wedding invitations are cute and classy. These cards feature a dress and tuxedo drawing atop the day's details, adding wedding charm to every page. To continue this adorable look throughout the rest of your wedding stationery, choose cards that either have no design or only simple embellishments. When it comes to a black-and-white wedding, less is usually more. Remember, it isn't about the amount of white space, but how you use it to frame the black.
A clever way to bring the black-and-white theme to your place cards, while also staying within budget, is to glue each place card to a black ribbon. Tie this ribbon around the napkin at each seat. This works best for smaller weddings, so if your wedding is larger than 50, I suggest you keep the place cards at the entrance way.
Like on my piano keyboard
To add a few more black-and-white touches to your day, give your guests white and black ribbon wands. Your company can raise these high and wave as you and your spouse exit the church. When your wedding photographs are developed, the ribbons will look great in both color and black and white.
I recommend getting a few special pictures developed in black and white. The contrast of hues you created with your color-scheme will show beautifully in these photographs, making your wedding feel timeless.
Photo Credit: Balloons: One And Only Paris Photography, Shoes: Lacie Hansen via Santa Barbara Chic, Table number: Loverly, Black bridesmaid dresses: Josh Elliott Photography via Style Me Pretty, Chevron Bowtie: Gideon Photography via Inspired by This, Cake: Neiyo Sun via Polka Dot Bride