Spring and summer have some of the most fun wedding colors – both seasons are warm and sunny, leading many brides to choose bright and happy shades. With all the options out there, I feel like poor little orange gets overlooked. This citrus-inspired hue adds energy to your big day, so why not give it a go? I've got tons of ways to make your orange color scheme a success!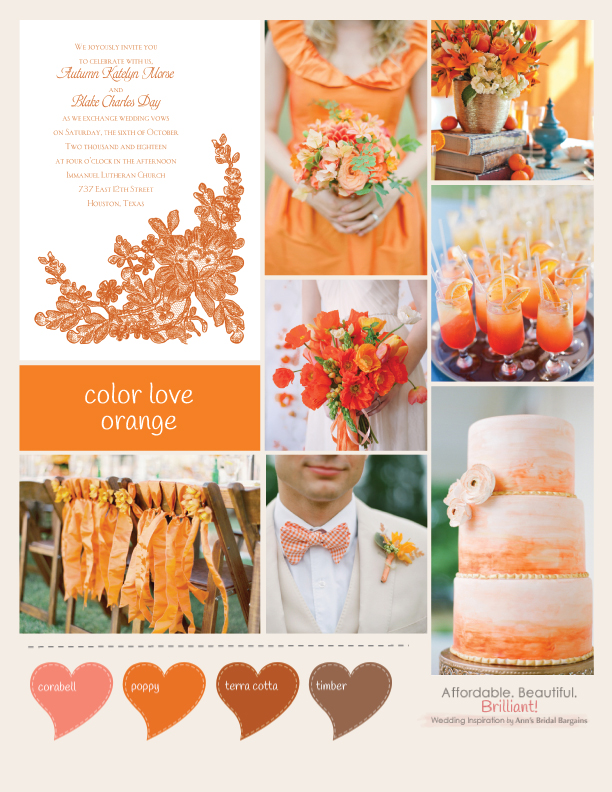 Pairing inspiration
Orange really shines when you pair it with the right color. This year, brides have been bold in their use of the shade, mixing it with other warm tones. My absolute favorite way to use orange is with citrus colors, such as pink (as seen in grapefruit), yellow (as in lemons) and red (as in blood oranges). There's so much you can do with this set of shades! Go ombre by arranging the colors to appear in a gradient on your cake. Start light at the top (yellow) and darken near the bottom (red). The colors would go yellow, orange, pink and red. You can even mix the colors in your bouquet!
Orange also looks magnificent with blue, green or white, so pick a combination that speaks to you.
Flower power
Of course, your color scheme should make its way to the flowers you carry and decorate with at the wedding. If you're looking for gorgeous orange blooms, take a look at this list:
Calla lily: This flower is elegant with a long stem and single wrapping petal. While you may know calla lily in its white form, it also comes in a natural yellow-orange hue.
Poppies: This lovely bloom exists in numerous warm shades, including red, pink and orange. In fact, you can use each hue if you're going with the whole citrus color scheme!
Gerbera daisies: With a vast amount of tiny petals, daisy flowers look full, similar to a pom-pom. In orange, these flowers are magnificent and striking, adding just the right pizzazz to your bouquet.
The orange details
Orange can make an appearance throughout your wedding decor. Here are a few ideas of how to use the color on your big day:
Wedding invitations: Start your orange planning off by sending wedding invites that fit your scheme. One of my favorite options is the Lace Detail Invitation from Ann's Bridal Bargains. This stationery features a floral lace pattern in the bottom right-hand corner. The words printed on the invite and the lace are all orange.
Drinks: Consider making a specialty cocktail for your reception that comes in an orange hue. Most drinks will feature orange juice as the base to achieve the color. You can even serve orange soda for the non-drinkers on your guest list.
Photo Credit: Bridesmaid Dress: Elisa B photography via Ruffled, Tablescape: Binita Patel Photography via Ruffled, Bride with Bouquet: Sweet Root Village via Ruffled Blog, Orange Drinks: Jodi McDonald Photography via Style Me Pretty, Chairs: Style Me Pretty, Groom with Bow Tie: Elisa B photography via Ruffled, Cake: Elisa B Photography via Ruffled Blog