Weddings nowadays aren't straightforward. Brides and grooms want their celebration to be one for the ages, so they come up with exciting reception ideas to add to their wedding planning checklist. Offering entertainment features is one of the biggest trends in reception concepts. Some couples bring in photos booths, for example, in which guests can take silly pictures of themselves. If you're all about having a fun wedding (and we know you are), consider including off-the-wall entertainment sure to keep your guests and yourselves happy all night long. Check out these totally creative ideas: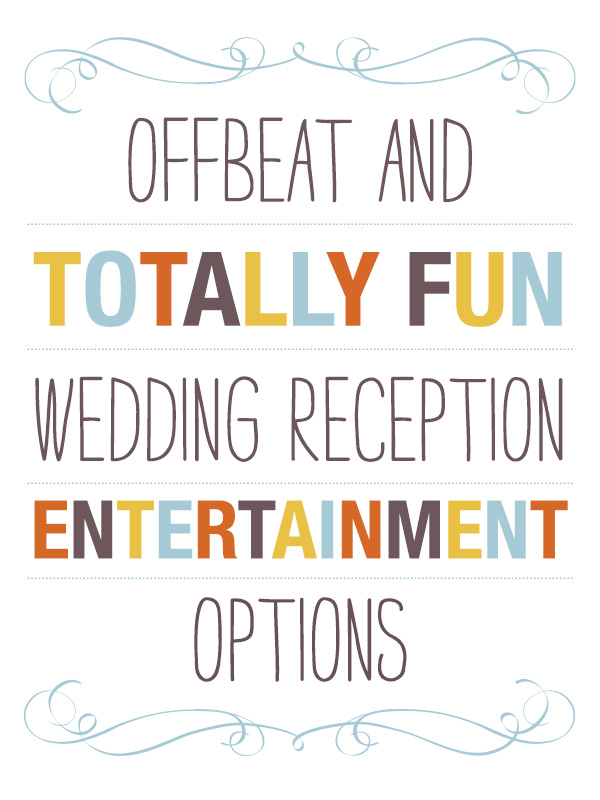 Tattoo station
This is like the adult version of having a face painter at your wedding. Ask an artistic friend to draw free temporary tattoos on your guests. You can also hire someone to do so. Consider bringing in a booth and displaying options for your guests. Pick out a few classic designs, such as a heart with a banner that says "love" and a few that reflect your story as a couple. Did you meet at comic book convention? Offer the Batman symbol as a tattoo option! By limiting the choices, you'll make your tattoo artist very happy. Post all the available designs on a board near the booth.
Magic show
You want your wedding to be magical, right? Why not bring in some actual magic? Consider hiring a magician to perform tricks throughout your reception. The performer can go table to table during dinner service, showing off their best card tricks. Have them take a hiatus while your family and friends give their speeches so that your guests focus on this special moment. But as soon as the dancing starts up, the magician can get back to work! Having this type of entertainment is also perfect if there will be a lot of young children at your wedding. The kids will stay occupied and entertained throughout the evening.
Comedy sets
Weddings are a time to celebrate, so you want your guests to laugh and smile. Transform the mood by hiring a comedian or improv group to perform at your reception. No matter which option you choose, you should talk to the performers beforehand, and give them some insight into your story. They should know how you met your fiance, as well as key moments in your relationship, such as your first kiss. The performers can use the material in their skits. A comedian will come with a prepared set while an improv troupe will make up a story as they perform, getting suggestions from the audience as they go.
Tasting stations
If you and your fiance have a favorite type of drink, such as bourbon, whisky, wine or beer, consider setting up tasting stations for your guests. Each stop along the way will feature a different drink and, perhaps, food pairing. Your guests can start with white wine and work their way to dry reds, for example. Some wineries will provide this service for a cost by sending one of their specialists to serve and talk about the wine. Should you go this route, you'll want to pick a local winery or brewery.
Dessert decorating
Give your guests something creative to do (and something tasty to eat!) by setting up a dessert decorating table. You can place cookies or cupcakes on a table along with frosting and other toppings. Guests can then decorate their treat however they would like. Make sure your frosting, sprinkles, etc., match the color scheme of your wedding. You can even hold a contest in which you and your fiance pick out the most beautifully decorated confection.