If you are a bold and beautiful bride to be, you will have to try on the wedding theme of brilliant peacock. This design is vibrant to a fault, and who wouldn't want it that way? Your big day is there for you to finally show the world what a stunning bird you are, so why not send yourself the compliment of breeding that sentiment into your wedding theme? Trust me on this one, with all of my industry experience, peacocks make for beautiful ceremonies.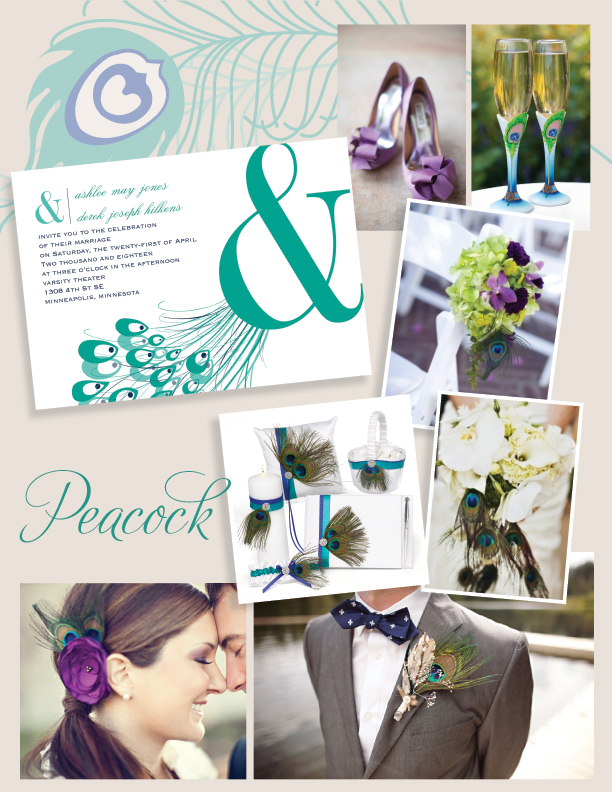 Start by saying yes
You said yes to your fiancé at the proposal, and now it's time for you to get the guests to say yes to you. Choose from one of the many elegant Ann's Bridal Bargains peacock-themed invitations. One of my favorites happens to be the Watercolor Peacock petite invitation. This card is so bright and colorful that guests won't be able to do much but wish for your wedding day to come. Another great option is the All Dressed Up separate and send invites. These will let your guests know that it is time to let their colors shine.
Let the men's feathers shine
I want to take a moment to address the groom and his cohorts before moving on to the bride. It may be hard, but don't forget that this day is about your husband-to-be as much as it is about you. He deserves a dash of his own daring peacock, so why not give him a touch of the spotlight with a peacock boutonniere? This should only comprise of the very top of the peacock feather, and have a second element like a small fern for contrast. If your wedding is following the color scheme of the peacock, have your guys wear a satin tie of either dark green or blue.
On to the real show stoppers
It may be difficult to find a dress that has peacock feathers built into it, so let your dress show off your personal style and bring out the peacock elsewhere. Start with your hair: Wearing a clip, or a flower made of peacock feathers is ideal. This does require at least a half updo to work, so if your plan to wear your hair down, consider wearing a bird cage with a peacock feather attached. For your bouquet, follow the peacock color scheme and choose off-white blooms that complement its colors.
Outside of the clothing, you are going to need to bring hints of peacock into your wedding design. I recommend incorporating it throughout the ceremony. The Ann's Bridal Bargains' Beautiful Peacock Flower Basket is perfect for the little beauties who will be spreading petals across the floor. For a beautiful toasting session at the reception, use a pair of Ann's Bridal's Elegant Peacock Toasting Flutes.
If you have an especially talented baker, ask for a peacock feather design that flows out from the top of your cake. If you hope to keep your cake minimalist in decoration, you can simply place a few peacock feathers in the top layer of the cake. When experimenting with this fabulous style choice, be bold. Peacocks are all about showing your true colors, so above all be you.
Photo Credit: Bridal Hair: Loverly, Chairs: Loverly, Groom: Tonhya Kae Photography via Ruffled, Bouquet: Loverly, Jenn Hopkins Photography via Style Me Pretty