Before the church bells ring and the wedding guests make their way from the ceremony space into the barn for dancing, every guest of a rustic wedding will receive a pastoral note inviting them to the picaresque affair. To help all of those rustic brides out there who happen to still be in the hunt for the perfect wedding invitations, I have assembled my absolute favorites of the rustic bunch. There is a card for every bride, whether you air on the romantic or modern edge of rustic. Get out your cowboy boots and get clicking!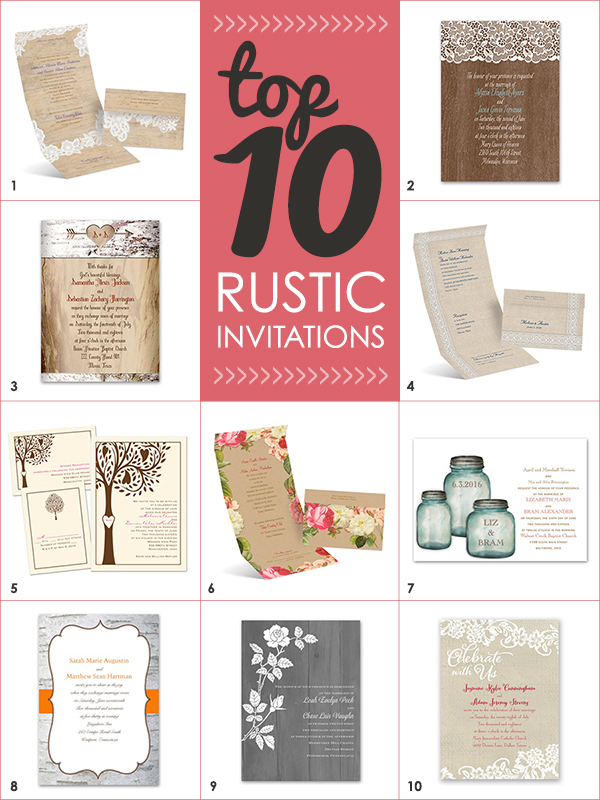 1. Vintage Country Seal and Send
Ann's Bridal Bargains' Vintage Country Seal and Send invitations feature an idyllic white lace trim border. The lace trim is backed with a natural wood design, making these invitations all the more countrified. These invites are delightfully delicate.
2. Woodgrain and Lace Petite Invitation
Keeping with the country feel, this invitation is a mini-version of the Vintage Country. These small invites are ideal for a rustic bride looking for a bargain. The cards are inexpensive, without loosing any country appeal.
3. Aged Birch Petite Invitation
Ann's Bridals Aged Birch Petite Invitations offer brides a truly intimate option. The design features the wedding details as if in a wood cut-out, and atop the card is a heart with an arrow through it, etched with your and your fiancé's initials. These invites are ideal for a rustic wedding that is to be hosted in the winter, because of their use of red and white.
4. Modern Country Seal and Send
For the bride who wants to blend a little city chic with her country affair, the Modern Country Seal and Send is a great choice. The decorations featured on this invite are simplistic and contemporary.
5. Tree Love Ecru Separate and Send
These invitations are for the artistic bride. While the use of browns and beiges keep to the rustic theme, the decorative tree on the invite is ideal for those who have an effervescent personality.
6. Vintage Blooms Seal and Send
The romantic bride will fall for these invitations. I just love how delicate the flower petals appear on the border. The details are gorgeous while also appearing vintage. If you are hosting your wedding in a garden, choose Ann's Bridals Vintage Blooms Seal and Send invitations.
7. Canning Jars
What rustic wedding is complete without canning jars? Your event will feature many homemade treats, and perhaps even your own canned jams, so blend this element into your weeding invitations with the Canning Jars design.
8. Birch Wood Crest Invitation
For the black-tie bride who just wants to bring in small rustic elements to her wedding without seeming informal, choose the Birch Wood Crest wedding invitations. The clean lines and crested shape atop a birch background is both homey and chic.
9. Rustic Rose Petite Invitations
If your wedding colors don't happen to bring in the traditional rustic browns, an invitation that is still natural without the color is the Rustic Rose Petite Invitations. These cards have a lovely gray wood background, and a delicate rose bush design.
10. Country Details Petite Invitation
To get a romantic feel without seeming too formal, choose Ann's Bridal's Country Details Petite Invitations. These feature a burlap backing design, intimating that your event will be a casual and fun affair.