I love outdoor weddings because one, you get to interact with nature and two, there are so many fun and unique decor options available. For instance, loads of brides and grooms decide to usher their guests from one outdoor space to the next using yard signs. These objects stick into the ground and include information about the ceremony, a call to party or tell guests where to sit. And, like every other detail on your wedding checklist, your yard signs can fit the theme of your big day. If you like the sound of greeting your guests with a yard sign, you may want to check out a few of these ideas:
Rustic
Outdoor weddings with a rustic chic flair call for a few specific (and trending) motifs. Lace, burlap and wood all define a pastoral look. In fact, if your wedding follows the theme you likely have other decorations and wedding invitations that features these elements.
Sign ideas: Ann's Bridal Bargains carries numerous wedding yard signs that I love. If you're having a rustic wedding, consider displaying the Wood Grain Yard Sign. It features a mimic wood back drop with elegant lettering perfect for your outdoor event.
Where to put it: Once you've decided on a sign, you can pick where to incorporate it. Placement depends largely on what the sign says. For example, if it includes a "please be seated by" time, then the sign is best for just outside the ceremony space. This sign has a "be seated by" line, so consider placing it near the ceremony entrance.
Fairy tale
If you've always imagined your wedding would look like something straight out of "Cinderella," then you're likely planning a fairy tale event. That means you'll want a yard sign that features filigree and cursive script. Using the right sign will send the message that you're about to live happily ever after.
Sign ideas: The Happily Ever After Sign from Ann's Bridal Bargains is my favorite for fairy tale weddings. A gorgeous frame surrounds information about your big day. At the top of the frame sits your monogram. Overall, it looks like a sign that would be at Price Charming's ball.
Where to put it: The sign says "Happily ever after starts here," meaning at your wedding. For that reason, consider putting the sign just outside your ceremony space. Guests will be ushered into your big event with a cute and uplifting saying.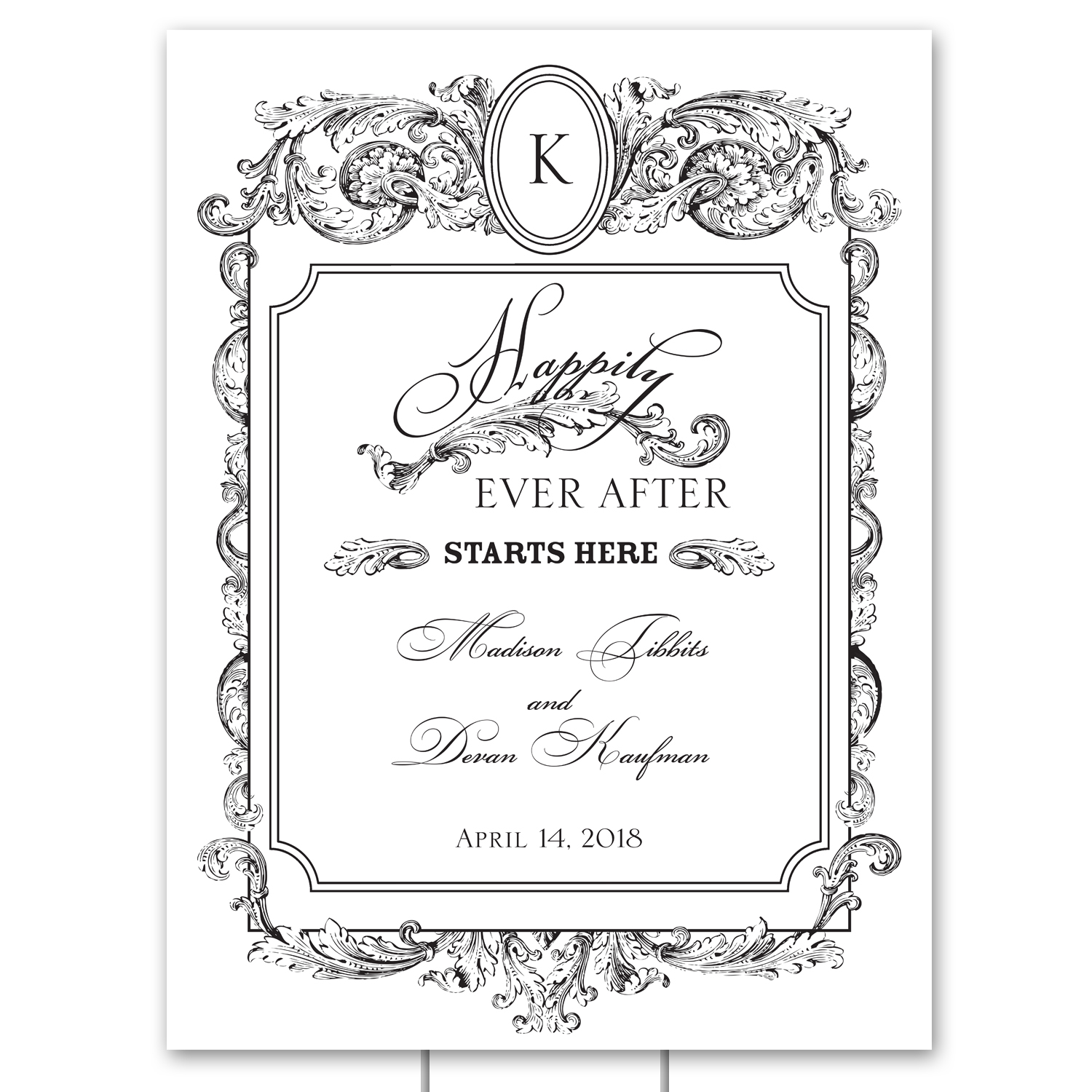 Bistro
Chalkboards are a definitive motif in bistros and coffee shops. They're used to announce the day's special dishes and drinks. If you can picture a French wedding in which your decor mimics that of a cute bistro of the rue, then your yard signs should be printed in the chalkboard look.
Sign ideas: The Chalkboard Sketch Yard Sign comes in black and features writing that looks like white chalk. A drawn banner carries words across the face and an ornate frame encloses it all.
Where to put it: You can place the sign near the entrance to either the ceremony and reception – both are appropriate ways to incorporate this cute sign.