With summer gradually fading into fall, deeper and darker colors are popping up in wedding ceremonies all over the U.S., and one combination in particular that I love right now is deep purple and black. There's something regal about these hues, so try them out with these awesome color combo ideas: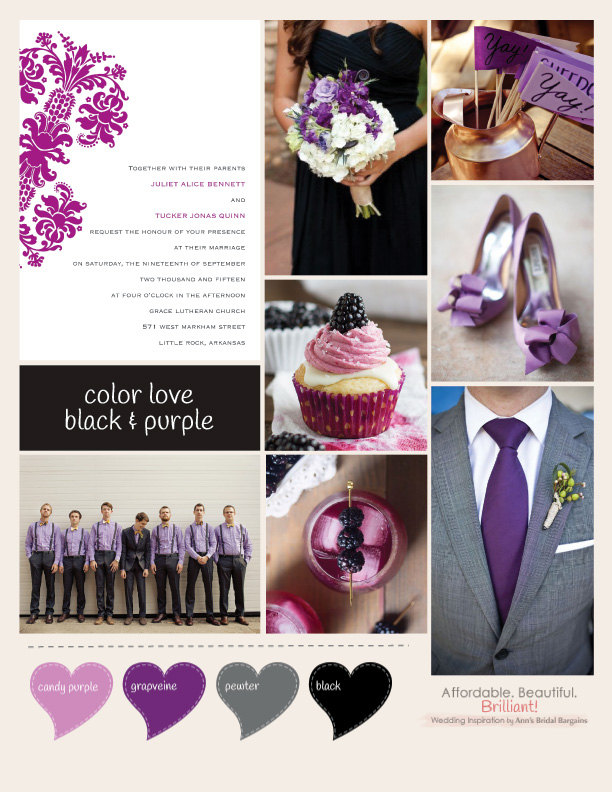 Have your guests sip on a blackberry cocktail
Fall is going to be here soon, which means that whiskey cocktails are back in full force at wedding receptions everywhere – lucky for me! Fortunately, blackberries pair perfectly with rye whiskey, so include a concoction with both of these ingredients at your reception.
Hint: If you have the bartenders muddle the berries, it creates a beautiful bright purple hue. Cheers!
Add a royal hue to black and white wedding invitations
The dramatic purple details splashed on the backdrop of black-and-white lettering is a striking look. As soon as your guests open their envelopes in the mail, they will immediate know they are heading to a wedding that doesn't skimp on luxury.
It's all about the shoes
While you might be tempted to have your bridesmaids wear purple gowns, I think an even bolder choice would be black gowns with amethyst-tinged footwear. Many shoe styles can be easily dyed to match your color palette, and the additional hue adds a lovely pop of color as your bridesmaids walk down the aisle.
Who doesn't love cupcakes?
They say the cupcake craze is over, but I beg to differ. I see them everywhere at weddings in many different colors, including lavender and purple. Going with the purple-blackberry theme, your vanilla cupcakes can be garnished with white chocolate frosting to add a pop of white, then topped with fresh delicious blackberries. If you're drooling over this idea already, you're not alone.
Photo Credit: Bridesmaid: Lauren Wright Weddings via Elizabeth Ann Designs, Pennant banner signs: Retrospect Images via Frosted Pettie Coat, Cupcake: Culinary Covers, Shoes: Ritzy Bee Blog, Groomsmen: Well Groomed, Cocktail: Sulia, Groom: my wedding ideas