Red and teal are high on my wedding color love list. Their bright hues give off both a cheery and hip vibe, perfect for the couple who will be walking down the aisle to a tune more upbeat than the traditional Johann Pachelbel "Canon in D." Let your retro dreams come true with these vintage inspiring shades. To set you on the path to teal and red heaven, I have organized a few of my favorite color ideas. You don't need to thank me, just enjoy!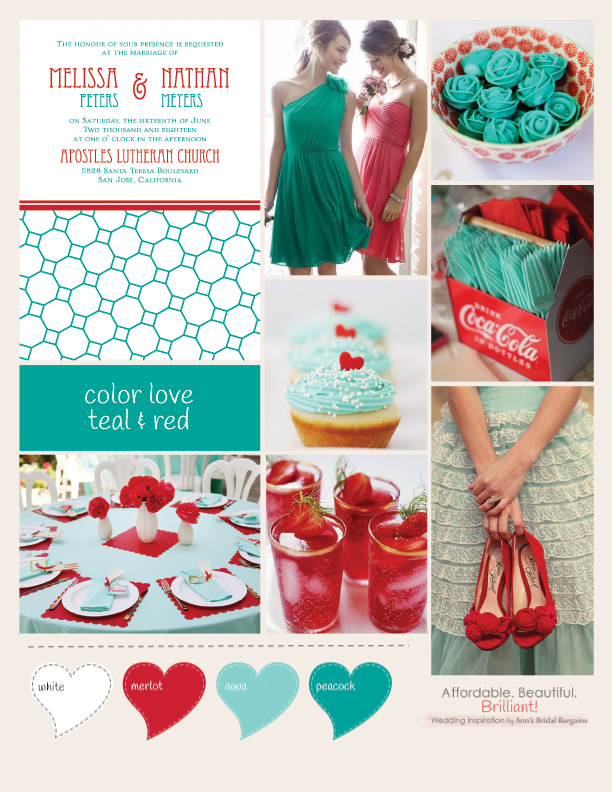 Invitations
Get your guests excited for your clever wedding color scheme with teal and red invitations. A great invitation that incorporates these colors is the Ann's Bridal Bargains Chic Patterns petite invitation. This invitation has a matching set of reception and response cards to make stationery coordination all the easier. This note's design is almost art deco, but the colors give it a very modern feel.
Ceremony
All ceremonies begin with an outfit. If you are not planning to go all out and wear a teal gown with red tulle underneath, then I suggest choosing to wear teal or red shoes. Top the look off with either a red or teal flower in your hair instead of a veil. Have bridesmaids wear teal dresses and hold bouquets of red flowers. Set the men up on the other side of the aisle with teal suspenders and bow ties.
To set your bouquet apart from those of the bridesmaids, have it designed with varying shades of red, from blush to burgundy. Go even one step further by tying a teal ribbon around the base of your bouquet to perfectly represent your wedding color scheme.
Reception
Welcome the guests to the reception hall with a decorative guest book stand at the entrance. Tie a few teal and red balloons at the end of the table, so guests are sure they have arrived at the right place. When it comes to color-splashing the rest of the reception space, be bold. These colors don't hide, and neither should your vibrant sense of style. Start by designing your place cards to match your color theme. Ann's Bridal Bargains' Lovely Lace Place Cards feature a vintage design as well as your choice of teal or red print. Your place card table will look great if you choose to order half the cards in teal and half in red.
Your tables may be the simplest element to which to add color. Choose to use teal table cloths and red cushions on white chairs for a striking look. If you are looking for something more subtle, make your centerpieces the color focus. Have clear vases of red flowers, like gladiolas, wrapped with one single teal ribbon each.
Your dessert table can also be a great location to express this color combo. Serve teal and red macaroons, or even teal frosted cupcakes with handmade red paper flowers stuck in the top of each. If you are having a candy table, provide your guests with teal goodie bags that can be sealed close with a red paper heart on a raffia string.
Photo Credit: Bridesmaid Dresses: Ann Taylor, Candies: The Wedding Chicks, Cupcakes: Love from the Oven, Strawberry Drinks: Sensibiliteas Blog, Forks: Catch My Party, Dress and red shoes: Exclusively Weddings