If you're like me, you want your wedding date to be memorable. Too many people receive their save the date notifications in the mail, and along with bill statements, invoices and magazines, throw them in the trash in most cases. Let's face it, we've all been guilty of tossing them out accidentally from time to time.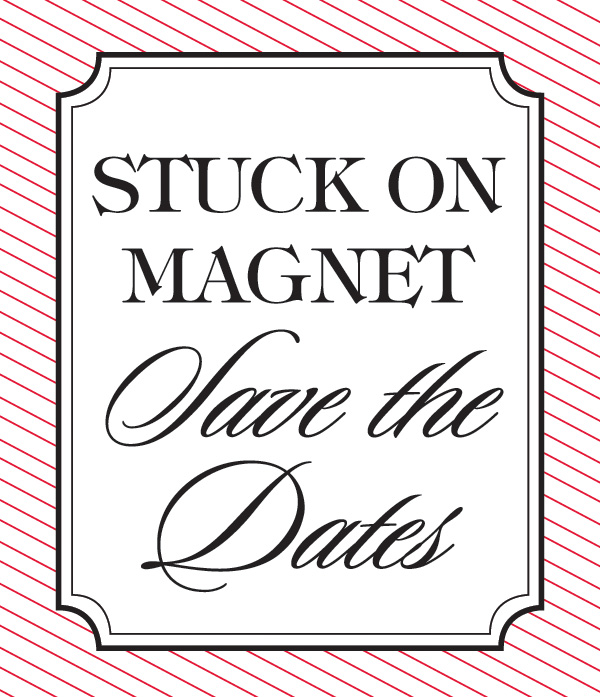 Luckily, there's an easy way to get cheap save the dates without having them unexpectedly wind up in the garbage: magnets. Think about it – everyone from your dentist to your vet and even your hair stylist can send these magnets as a way to keep a steady reminder about your upcoming appointments.
You can do the same with your big day. I've done some research and discovered that there are many benefits to these adorable save the dates for everyone's fridge. For instance, people are probably less prone to throw away magnets as they would with a piece of paper since it's something you can actually use. Here are a few pointers to get you started:
Whichever method you choose, the image and information are key
I generally say that a good rule of thumb is to send your save the dates out at around six months from your wedding date. That's a long time for a magnet to be taking up valuable time on someone's fridge! Your guests will be able to see the date every time they go to make breakfast in the morning or a midnight snack at night, which will lessen the chances of your friends forgetting the big day.
At six months out, you might not know the wedding colors, who is going to be in your bridal party or other particulars – and that's OK. The important things are the date and location – so make sure that besides the right image, these are the focal points of the design.
Selecting the right image
You can either buy the digital rights to your engagement photos or simply find a nice picture of you two living it up to include on the save the date magnets! Think beach or ski vacations, or better yet, a snapshot of your fiance on one knee! Whether you two are just in jeans and tees or in fancy cocktail attire, make sure it's an image that sums up your personalities and the potential theme of your wedding.
Trust me: There's no need for a millionaire's salary to make your save the dates memorable. Consider save the date magnets to beautify fridges everywhere, and showcase your big day that's coming up soon!