With their warm and all-natural accessories, vintage charm and laid-back ambiance, I simply adore country weddings. Rustic details for decor involve many materials, venues and ideas – but just because you might be looking for a barnyard feel doesn't mean you can't have a chic and sophisticated country wedding!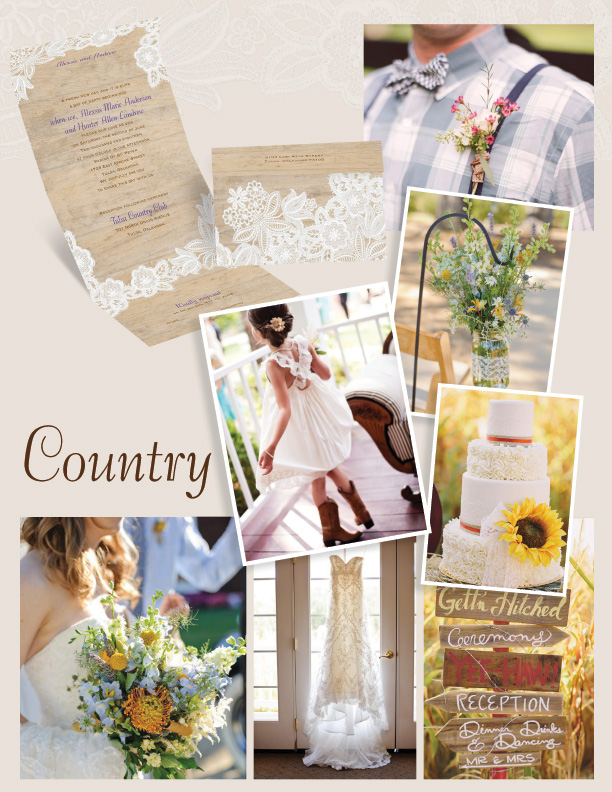 Let nature be your guide
Nothing says rustic like colorful wildflowers. You can transport your guests right into the middle of a prairie field by decorating with these free-form blooms. During the summer, you can purchase many wholesale wildflower packs that fit any color palette, from bright yellows to demure pinks.
Use mason jars as vases
The great thing about rustic decor is that it doesn't have to be too hard on your wallet! I've been to several weddings where mason jars and even vintage watering cans are used as a home for flowers and wedding favors. I recommended you head to some local thrift shops or wholesale retail spots if you are going with the do-it-yourself route – you might find some great bargains for these fun vases!
Earthy materials
For a rustic-themed wedding, an outdoor reception space will be perfect, which means that you probably want add onto the earthiness. Burlap, natural wheat, birch, twig and vine garlands, and other au naturale accessories can add to this country feel even more. You could even use twine to tie your floral arrangements together during the ceremony and reception. Burlap and lace for table runners and place settings are also quite popular for a country look with a girly flair.
Go with the great outdoors for your colors
For a country themed wedding, you'll want some colors you could typically find in nature. This means that romantic soft pinks found in flowers and earth tones like light yellow, pumpkin orange and soft reds are safe bets for your wedding invitation cards, centerpieces and place settings.
Photo Credit: Groom: Wedding Chicks, Flowers: Jaime and Chase Photography via Wedding Chicks, Flower girl: Colin Cowie, Cake: Patrick Ang Photography via Wedding Chicks, Bouquet: Jaime and Chase Photography via Wedding Chicks, Wedding Dress: Jaime and Chase Photography via Wedding Chicks, Sign: Patrick Ang Photography via Wedding Chicks