I think there's something magical about the fall. The return of jackets, scarves, boots and blankets, and pumpkin featured in practically everything are some of the best parts about the season. For weddings, I think it's the broad spectrum of colors, earthy tones and cozy decor that makes autumn nuptials so popular.
As for the wedding ceremony decoration ideas, you'll want the main star of the show (besides yourself and your fiance) to be your centerpieces and table decor. There are some seriously beautiful fall trends for wedding table decorations this season, and here are few I've stumbled upon that could really make your autumn reception shine: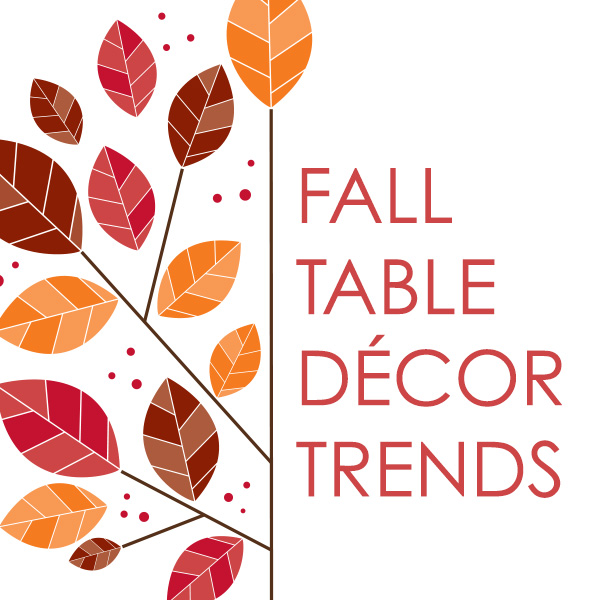 Add a little green
To make the earthy vibe even more prominent for your table decor, trying mixing in emerald green shades that are inspired by nature along with the traditional deep reds, oranges and purples. This reception idea really ties in the fall colors without having the table look too much like a Thanksgiving spread.
Big dramatic flowers
It's fall, but that doesn't mean that you don't have an abundance of gorgeous blooms to choose from. I love fall flowers in particular because they allow wedding decor to get a bit more creative. Some excellent choices for your flower centerpieces include lily of the valley, scabiosa pods and large blooms like celosia. Mixing in rustic components like feathers, wheat and barley stalks are all popular non-floral accents I've been noticing when it comes to autumnal wedding reception ideas.
Branches
Trees are so emblematic of fall, and one of the best ways to implement them in your reception space is to decorate plain branches with the accents or flowers of your choice. Since branches are so simple and evoke a sense of natural beauty, you can make the design as basic or elaborate as you want, and you can even include crystals and blooms into the arrangement.