Considering a vintage look for your wedding invitations? Trust me, you aren't the only one. It seems like many brides these days are betting on classic lines and timeless materials like lace and floral prints for just about all aspects of their ceremony, and you can gain inspiration from the many great ideas out there.
I've been going to a lot of weddings over the summer, and some of the thermography invitation trends I've seen are quite stunning. Here are five of my favorites for the upcoming fall season to give brides and grooms some excellent vintage wedding invitation insight: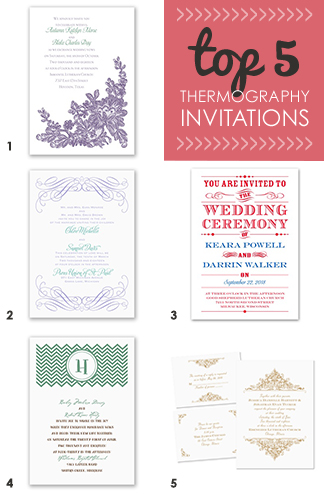 1. Old lace: There's nothing that screams vintage more than lace details. Lace is simple, classy, girly and effortlessly beautiful. Response cards that match your vintage lace dress could be a great sneak peek to the theme of the wedding. The raised lettering found in thermography printing only adds to the Old World ambiance found in your vintage wedding invitations. The best part is that you can choose whatever type of colors you want to match the wedding palette, which is perfect for the warm reds and purples I'm starting to see in early autumnal ceremonies.
2. Romantic flourishes: Most brides love the idea of getting swept off of their feet, which is exactly what you'll feel like doing with these sweeping romance thermography invitations. The old-school calligraphy with this type of design could work really well with a classic wedding full of early 20th century design elements. Thermography printing and Art Deco ideas such as these are practically synonymous with one another, and you could even add in a Great Gatsby-type feel by using metallic colors such as gold, silver and bronze (perfect for a fall wedding).
3. White wedding: Sometimes basic is best, and a white backdrop with simple lettering for your vintage wedding invitations can work with just about any type of theme. All-white backdrops include classic typefaces that are reminiscent of old show posters, which is one of the most popular trends for typography in wedding invitations right now. Not only is this picture perfect with a vintage theme, but it adds even more of a wow factor with the raised thermography lettering. White backdrops also pop on a fridge exterior, letting your guests enjoy a lovely reminder of your big day every time they reach for a snack.
4. Adorable chevron: I have a bit of a quirky side, which is why I am in love with chevron designs on vintage wedding invitations. Since chevron is more of a loud print compared to other invitation trends, brides might want to consider a more muted color and less ornate font. That way, the design doesn't get over the top.
5. All things Victorian: You can't go wrong with Victorian lettering: It's elegant, timeless and works wonderfully with thermography invitations due to the matte finish. With vintage Victorian styles, you don't have to spend a fortune to evoke a sense of class and turn-of-the-century elegance with every flourish on your wedding invitations.