In the midst of planning a winter wedding? I like a glittering New Year's Eve theme or wedding palette that reminds me of crisp snowfall on a cozy cold night (roaring fire included). The colors that come to mind for such an occasion? Definitely navy blue and silver.
Navy is a strong color associated with fidelity, which has made it quite the popular hue for brides and grooms over the years. Throw in a celebratory metallic silver for a fun combination that's perfect once the chillier weather sets in. Platinum tones and navy hues will look fab on your wedding invitation stationery, and couples will have many luxurious materials to work with for the wedding party outfits and reception decor if they use the navy and silver palette. Here are some great ideas for a navy and silver wedding to get you started: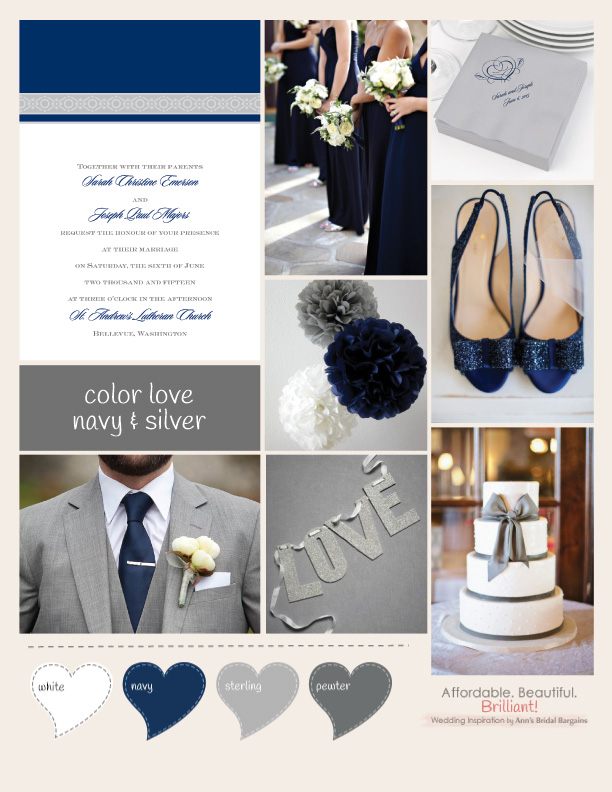 What to do about flowers?
There simply aren't a lot of blooms out there that take on a navy hue, and winter isn't exactly the best season for flowers. That doesn't mean your bouquets and centerpieces won't look amazing. Hydrangeas are less expensive and look quite jaw-dropping when dyed in a navy shade. Or you can use white blooms with accented navy pendants and ribbons to add to the theme. Simple baby's breath also looks magnificent when paired with navy accents.
Something blue? Check!
Of course, you can wear whatever shoes you want as the bride. However, if your colors are navy and silver already, I think including navy shoes with silver jewels would be a really classy and fashion-forward idea to go with your wedding dress. Your guests will be wowed by the sparkling pop of navy as you walk down the aisle. What a fabulous idea for your something blue!
If the shoes aren't your thing, consider adding a few jewelry statement pieces with navy and silver. Sapphires in particular look striking against a wedding dress, and the combination adds a romantic and Old World look to your wedding ensemble.
Bridal party ideas
Fortunately, almost every gal is going to look great in navy, whether they have blonde, brown or red hair (so your ladies will thank you). The hue is also amazing paired with silver jewelry and shoes, so letting your bridesmaids pick out their own metallic-inspired footwear for the big day should be a fun experience. You could even make a shopping trip out of it.
For the gentlemen
Navy ties and handkerchiefs look quite dapper next to a gray suits, and could be a perfect pairing for your pictures when standing by your bridal party's navy dresses. Or, you can take an extra bold approach and let the guys wear navy suits while the ladies dazzle the crowd in a muted metallic silver. Needless to say, you have a lot of options with these two hues when it comes to the fashion department.
Navy and silver is, in my opinion, one of the classiest color combinations for a wintry wedding. Be sure to use some of these great color-crush ideas to make your wedding look spectacular!
Photo Credit: Bridesmaid Dresses: Miki and Sonja Photography via Style Me Pretty, Shoes: Katelyn James Photography via The Perfect Palette, Pom Poms: Etsy, Groom Attire: Sean Curtin Photography via Bridal Musings, "Love" Banner: BHLDN, Wedding Cake: Debra Eby Photography via Style Me Pretty