Ever feel like you're a bride who might have been better suited for living in another decade? I know it's crossed my mind from time to time. Whether the design is a mod look from the '60s or a Great Gatsby-themed, '20s-era reception bash, weddings where nostalgia plays a major factor are becoming more and more common. It totally makes sense: Classic lines and old-fashioned charm never seem to run out of style, especially with wedding stationery ideas!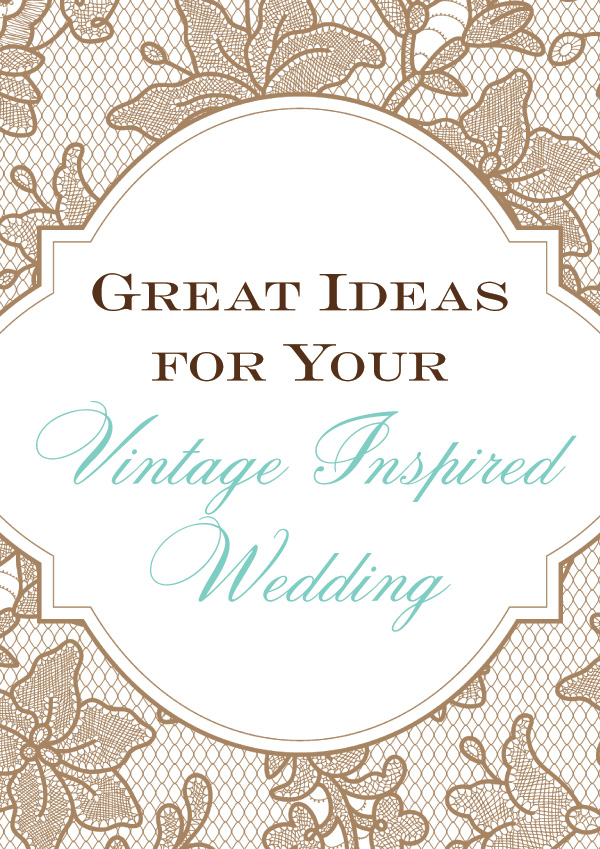 Sometimes looking to design elements from past decades can turn up the charm in a big way, whether you opt for vintage wedding invitations, classic hair accessories and jewelry to accent a great second-hand gown or the carriage that whisks you and your new spouse off into the sunset after the reception. Lace details are a common theme for these looks, and can even be included in your wedding stationery ideas! However, your vintage wedding invitations can also take on a simple theme if you are working with just a few colors. You'll be able to work several wedding stationery ideas in with any type of vintage-inspired ceremony, from Victorian to Bohemian
I think these nostalgic and classy decor ideas are the best ways to add some quirk and charm to any vintage wedding. Here's a few to get those clocks turned back for your big day:
Opt for a letterpressed look for for wedding invitation stationery
Many Victorian and early 20th century fonts have a classic letterpressed look that can work wonderfully with an elegant old-fashioned theme. Letterpress-style fonts are back in a big way for stationery, so be sure to check out what options are available for your invitations. Woodgrain and lace are excellent designs for vintage wedding invitations that can be incorporated with a letterpressed look and take you back to the '20s with their earthy yet upscale feel.
Victorian-era designs are a major hit with brides as well. Because this was somewhat of a golden era for calligraphy, be sure to opt for vintage wedding invitations that pair well with the flourishes and decadence of the period.
Get rustic with your centerpieces
Consider using old books, goblets or even candelabras to really up the vintage ante. As for flowers, you can't get much more romantic than classic roses and baby's breath, and many of these blooms can be dyed to match whatever color palette you prefer or even be included in your wedding stationery ideas!
I've seens lots of country-themed wedding invitation stationery that was nothing like a barnyard affair. Just because you want a rustic wedding doesn't mean it can't be chic! Channel your inner Patsy Cline with old-timey vintage designs that are fit for a country queen.
It's all about the accessories
As the bride, much of the vintage flair is going to be on display in your gown, veil (if you choose to wear one) and other hair accessories. This could be an excellent way to add in your "something old" or "something borrowed" – consider finding a vintage necklace, hair accessory ('40s and '50s era hair pins are huge right now) or veil. You could even see if your mother or grandmother have some trinkets they wouldn't mind parting with for the big day. These classic patterns can also pair well with your vintage wedding invitations to give an charming yet cohesive look to the decor.
Hand-drawn magnificence
I know nothing impresses me more than receiving wedding invitation stationery that looks like it might have been drawn by hand. Even if you aren't much of an artist, you may choose from many printed options that will feel – and look – like the real thing. You can continue with the theme by having a standing chalkboard with hand-drawn designs and flourishes that direct your guests to the reception following the ceremony.