Planning your nuptials isn't always stressful. Like choosing your favorite wedding favor bags and enjoying the cake-tasting portion of your reception (yum!), "popping the question" to your bridesmaids if usually a joyous affair.
There are many clever ways to make your ladies feel special, too. After all, being a bridesmaid is a major commitment, and the duties are even more important for your maid of honor. So, take it from me and try out these adorable ways to "propose:"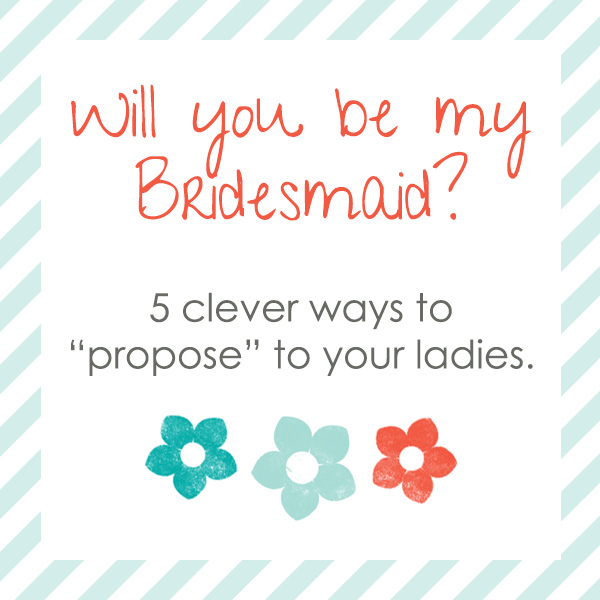 1. Wedding invitation stationery
There is so much excitement when you receive a personalized letter in the mail. Adding a nice note explaining why your friendship is so important, along with the "Will you be my bridesmaid/maid of honor" question is a simple and sweet gesture.
2. Send flowers
If you're planning on a small wedding party, you can send a personalized bouquet of flowers with the question printed on the note. Seriously, what gal doesn't love getting flowers?
3. Sip and swirl
Wine is another favorite, and Bespoke Bride featured a clever bride's idea of personalized wine bottles for her bridal party. You can do a little research and see which varietal each of your bridesmaids enjoys to add even more of a sincere touch to your gift.
4. Over dinner
Having a girl's night out is always a great idea no matter the occasion, in my opinion. Break the news to your friends over some excellent food and conversation if you want to keep it short and sweet.
5. Hide a secret message
This is one of the cutest ideas I've come across with wedding planning. You can hide your question in a variety of ways. For instance, if you are having a beach wedding, you can hand out mini-bottles with your question written on a piece of paper tucked inside – the perfect message in a bottle!