I truly love the color combination of blue and purple, which makes sense seeing as it's a winning wedding color combo. These cool and sophisticated hues come in numerous shades and instantly add a royal feel to your decor. As an added bonus, blue and purple look great on just about everyone, from redheads to blondes to brunettes (a blue and purple wedding is sure to make your bridal party happy).
Fall and spring are excellent seasons for this color combo as well. Bright peppermint and lavender pastels work perfectly in April and May, while deep magentas and midnight blue can make for a sublime fall ceremony. The versatility of these hues is truly what makes them unique, so it should come as no shock that they are quite popular in wedding palettes.
If you've settled on a blue and purple wedding palette, you're not alone. For wedding planning inspiration, try out some of these winning ideas for the blue-purple combination your guests will remember for years to come: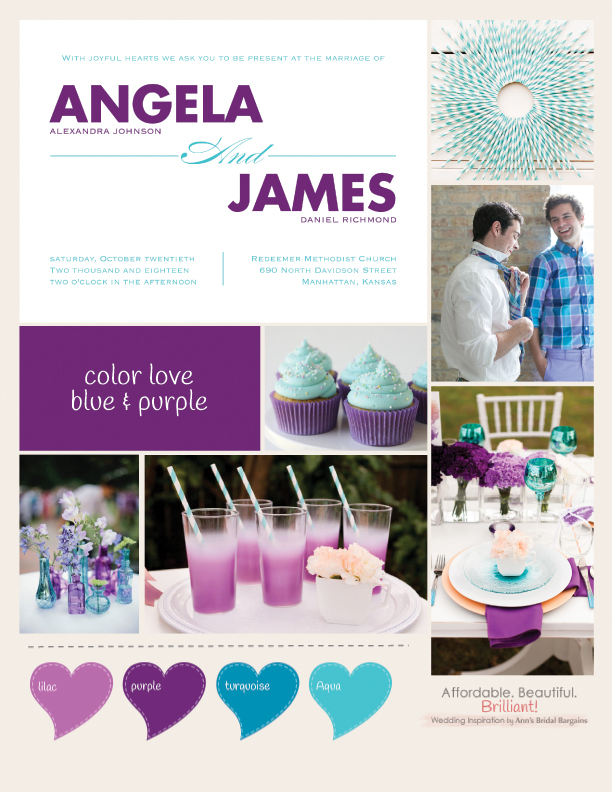 Try out a playful print for your bridal party: You can have a lot of fun with a blue-and-purple combo, especially when it comes to your bridesmaid dresses. Take this great idea from the Perfect Palette, for example, which showcases a flirty A-line bridesmaid dress with a floral print. This adorable dress was tailor-made for a spring wedding and works wonderfully alongside a white or ivory gown. Dark blue and purple also makes for a lovely chevron print if you want to go with a look that's a little more modern.
Go with a royal theme: Purple used to symbolize the colors of monarchy, and because it's your big day, you might as well feel like a king and queen. Your wedding decor can definitely reflect this high-class idea, especially if your reception space comes equipped with dazzling chandeliers. Deep blue and purple roses complete the centerpiece idea, and gold accents highlighted in your stemware and plating can add even more to the royal feel.
Something blue? We've got you covered: Brides, wearing blue shoes is one of the most popular something blue ideas out there. From periwinkle to deep navy, blue hues have made their way to the feet of many brides over the years. You can get a little creative with your something blue, too. For instance, sports-loving brides have been known to don their favorite team's blue logo on their garters for the always-fun toss during the reception. Or you can class it up with a sapphire or topaz necklace that complements your wedding dress or bridal party hues.
Dress up your dudes: Blue and purple is also a fantastic color combination for spring and fall menswear. During the spring, you can opt for a light grey suit paired with navy ties alongside boutonnieres crafted with lavender succulent. In the fall, dark navy suits look dashing with baby blues or light lavender ties.
The options are endless with bridal bouquets: Whether you want them to be small or large, bridal bouquets look heavenly with pops of blue and purple. You can either go for a simple white bouquet dotted with blue and purple hydrangeas and roses, or get really creative with big lavender blooms, fresh blue flowers and lavender pine cones to add texture to the arrangement. Lavender succulents add a lot of character to just about any arrangement, so consider adding them to your bouquets as well as centerpieces to round out the blue-purple combo!
Nautical themes work wonderfully with blue and purple: The colors of the deep sea could not work better with a blue-purple combo, so why not have your reception at an aquarium? However, if you don't want to spring for a museum-sized reception space, you can still work with a nautical theme. For instance, periwinkle napkins for place settings can be tied with a cord laced in a sailor's knot. You can also use silver buckets as vases or hang small lanterns that look like lighthouses to enhance your nautical theme.
Blue and purple confections: While blue and purple might not be the immediate colors that come to mind for a wedding cake, I have seen a lot of creative ideas spring up with this color combo. These colors are decadent, and desserts are decadent, so there's no reason why they can't work together. Dainty baby blue flowers, radiant orchid or hydrangeas look lovely with white confectioners icing on a tiered cake. However, I have even seen Martha Stewart incorporate Toile de Jouy prints wrapped in a patterned fondant for a dessert table. The best part about this option is you can choose any type of cake you want. And, if you want to go all out, white chocolate buttercream and fresh blueberry or blackberry cake could be a delicious way to incorporate these colors into your reception.
Photo Credit: Straws: Stephanie Yonce via Ruffled, Groom and best man: Heather Cook Elliott via Modernly Wed, Cupcakes: Glorious Treats, Vases: Le Magnifique Blog, Drinks: Stephanie Yonce via Ruffled, Table decor: Stephanie Yonce via Ruffled