Christmas is just around the corner, and a holiday wedding makes the season even more exciting! This time of year, colors are bold and eye-catching — the perfect time for a red and white wedding.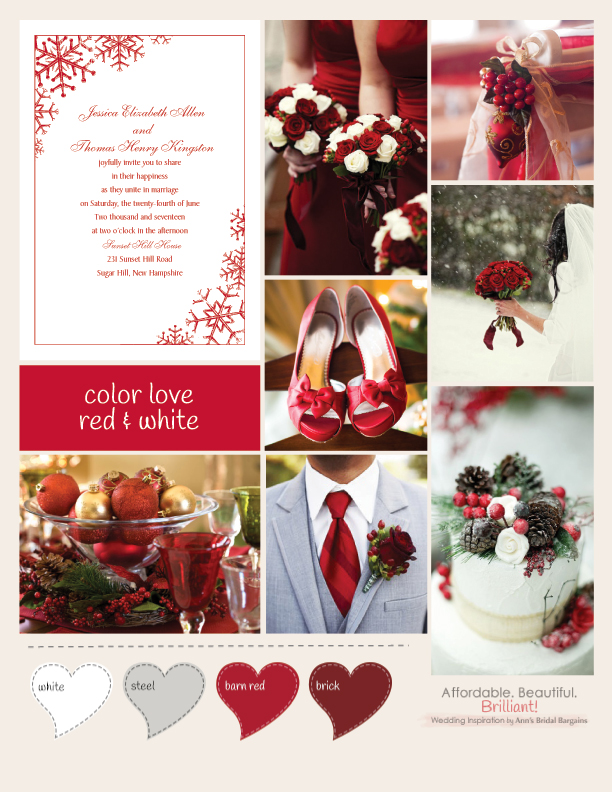 Wedding invitations couldn't be easier to find!
First of all, using white as your base color leaves your wedding invitation options wide open. You can find any white wedding invitation and personalize the design and/or wording to be red. The color pops right off the paper giving any design a beautiful holiday touch.
Be ultra romantic with classic red roses.
Red and white roses are stunning. You really can't top the beauty of roses and the colors are simply perfect together. However, roses can be a little spendy so see if you can't switch the white flowers to something a little less costly. Ask your florist what's in season that comes in white and will pair nicely with red roses.
Let nature inspire some affordable wedding decorations.
Pine cones, evergreen branches, fake red berries…they're all wonderful options for creating affordable wedding decorations. Want a little more color? Go ahead and spray paint pinecones and tree branches whatever color you like. Silver would complement this red and white look perfectly.
Don't forget to accessorize…
Red accessories are to die for! They make a bold statement while looking ultra classy. Give your groom a bright red tie to match your bright red heels. How stylish!
Photo Credit: Groom: Project Wedding, Cake: Amber Lynn Photography via Wedding Chicks, Ceremony Décor: Debra Gulbas Photography via Bridal Guide, Bride & Bridesmaids: Craig Williams Photography via Whimsical Wonderland Weddings, Table decor: Lisa Thornberg/istockphoto via Bridal Guide