The chill in the air is here. The holidays are right around the corner, and pretty soon there will be plenty of cheer and snow to go around. Many people prefer getting married during the warmer months, but I think there is something uniquely elegant about a winter wedding.
There are so many winter wedding ideas I've seen in my experience with wedding planning. Think about it: a roaring fire, the aroma of hot apple cider, luxurious materials like faux fur and leather – all of these can create a vision of a romantic winter wonderland wedding.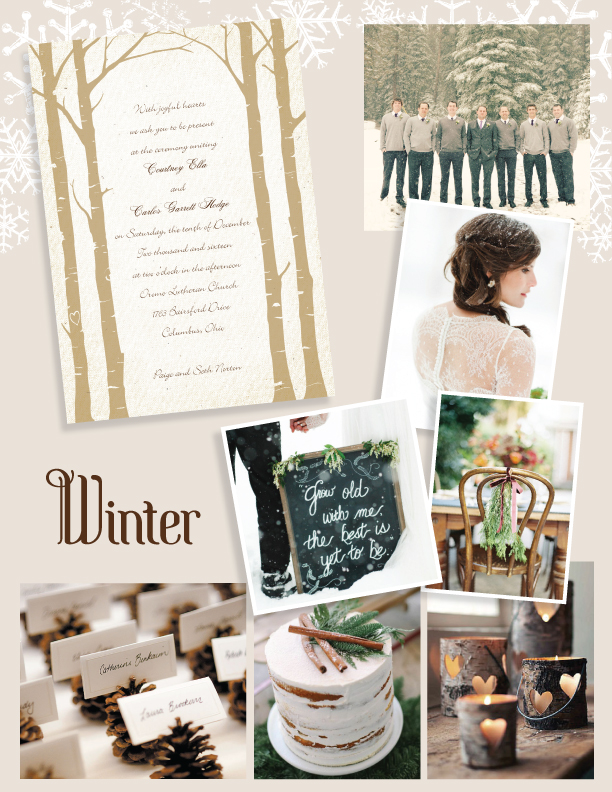 Winter color palettes
During the beginning stages of planning, you'll need to decide on colors, and there are many to choose from during the colder months. Some of the most popular among winter brides include black, copper, gold, coral and deep reds (think magenta or cabernet). Already you're getting a sense of bundling up with a glass of red wine, aren't you?
Bridal accessories
Winter wedding ideas for the bridal party are all about accessories. A major trend I've seen with brides serves as a practical – but gorgeous – fashion statement: faux fur stoles. These vintage pieces let you channel your inner Marilyn Monroe and keep the frost at bay at the same time. Throw on some deep red lipstick and you will feel like an absolute bombshell.
During the winter, you might want to stick to close-toed shoes – but that doesn't mean that there isn't an array of beautiful winter footwear to choose from. Midnight blue pumps fit into a winter wedding perfectly (think of a glittery New Year's Eve soiree theme) and could also serve as your something blue. There are even faux fur-lined accents for heels you can choose from if you really want to take the wintry theme to the next level.
As for the bridesmaids, tights might be a good option, and you can even let your bridesmaids pick a winter-inspired pattern on the tights to match the theme (so long as you have a neutral gown color). Taking inspiration from Jennifer Eileen Photography, your ladies can even don dark fur stoles to match your white one like this winter bride did. Just think of the pictures: The whole bridal party will look like Hollywood royalty!
Groom accessories
As for the guys, you have several wintry options and materials to work with. For starters, wool suits can keep the groomsmen warm and give off a retro theme. You can even have the guys wear crisp V-neck sweaters over their shirts and ties in lieu of a traditional jacket if you are planning a more casual ceremony. During the winter, you can go with a lot of different hues for your suits or tuxes, including grey, black or navy.
Floral accents
You may think that your floral options during the colder months might come up short. However, there are plenty of winter blooms and plants you can choose from for your bouquets and decor – you just might have to get a little creative. For instance, check out these pinecone place cards featured in Brides Magazine. Not only does this accommodate a winter reception perfectly, but pinecones are also sustainable, affordable and just plain adorable.
However, if you are all about colorful flowers, you have cold-weather options, too. Succulents, fresh holly, evergreen boughs and even eucalyptus pods can come together to create a beautiful bouquet fit for a winter queen. Some other winter wedding flowers I've seen include anemones, wood sola flowers and, of course, you can't go wrong with roses. Deep red and white roses paired with pine boughs can give a hint of the holidays without looking too much like a Christmas tree.
Light a candle
The flickering glow of a candle isn't just romantic – it also conjures up images of staying cozy on a cold winter evening. Consider using lanterns to light the reception space to give an old-world feel. Or stick with a classic theme – church candles (think candelabra) or votives are good options.
A winter-themed cake
A really cute cake topper I came across recently involved small pine accents and cinnamon sticks, such as this one featured in Elizabeth Ann Designs. However, you can decorate a cake with fresh holly or succulents as well to add more allure to the cold-weather vibe. Deep red ribbons or copper accents can also work well with fondant cakes.
If you and your fiance aren't big fans of cake, you can have a small cake to cut and opt for a pie table. Fresh apple, cherry, pumpkin and chocolate are all delicious winter options, pies are warm and comforting (perfect for winter) and you can give your guests a variety of sweets to choose from!
There you have it! As you can see, there are many ways to warm up a winter wedding theme and create a beautiful ceremony and reception your guests will remember for years to come.
Photo credit: Candles: via Project Wedding, Cake: Jacque Lynn Photography via Elizabeth Anne Designs, Pinecone Place card: Tracy Carolyn Photography via Brides, Grooms: Jennifer Eileen, Bride: Rebecca Hollis Photography via Style Me Pretty, Chair Décor: Landon Jacob Photography via Grey Likes Weddings