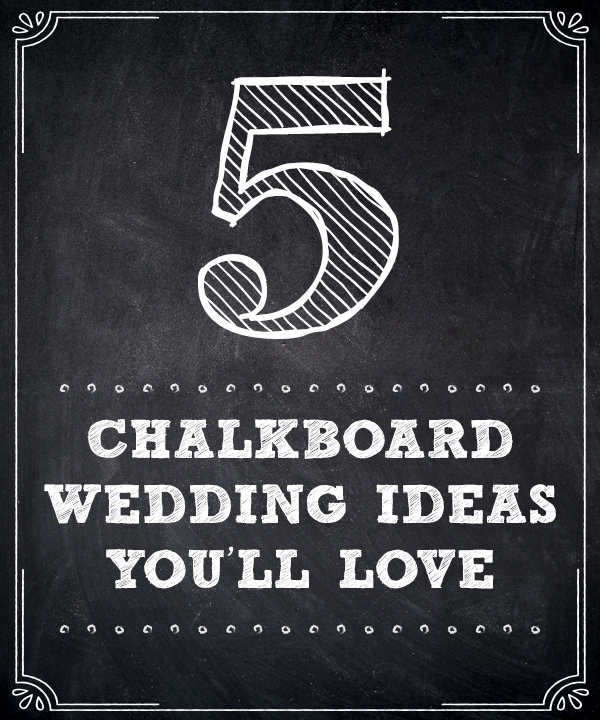 Not too long ago, chalkboards tended to bring up memories of grade school. However, today chalkboards have become a major trend in the wedding scene and tie in perfectly with many themes.
The connection between chalkboards and weddings makes sense: You can get as creative with the design as you want – chalkboards are easy to use and inexpensive and (the best part) you can reuse them. They also give off a rustic and nostalgic feel, which is perfect for all of you vintage brides out there!
Here are some of the cutest ideas I've seen so far for chalkboards in weddings:
Chalkboard wedding invitations: These invites are some of the most unique wedding invitation ideas I've come across lately, as brides and grooms can use many fonts and design details with a chalkboard paper design to round out a wedding theme.
Create a message board: This is kind of like a guest book, only even more interactive! Have your guests grab some chalk and scribble heartfelt messages on a large chalkboard. They can even add in a few doodles if they want. Then, you can pose for your wedding photos in front of the message board, surrounded by all of the well wishes from your friends and family.
Directional signs: Because chalkboards are relatively inexpensive and easy to move, they often serve as directional signs, such as "this way to the reception," for your guests. This way, you can personalize the message and let the chalkboards serve a practical purpose at the same time.
Use them in the procession: During some weddings, I've seen the ring bearer of flower girl carrying a chalkboard sign reading, "Here comes the bride!" or some other adorable message. This will definitely create a lot of ooohs and aahhs from your guests and could be a great idea for your flower girls if your venue doesn't allow you to use petals.
Chalkboards as menus: If you are having an open bar at the reception, write down all of the beverage options on a small chalkboard so guests know what is available. This is really handy for your bartenders and wait staff if you run out of a particular item, as they can simply take an eraser and wipe away unavailable drinks from the menu (you can also create a chalkboard sign indicating where tips should go if you aren't already taking care of the gratuity).
Because chalkboards are so easy-to-use, versatile and just plain cute, it's no wonder they are some of the best trends I've seen in weddings this year!